Transfers
What next for Iker Casillas? Are Liverpool, Arsenal & Co. right for Real legend?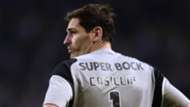 There are not too many occasions when a World Cup and European Championship winner with 167 international caps and three Champions League crowns becomes available on the open market.
This summer will, however, see the iconic figure of Iker Casillas drop into the free agent pool.
A man who emerged from the academy system at Real Madrid to become a modern-day legend in the Spanish capital is preparing to part company with Porto at the end of the season.
Various landing spots have been mooted for the 36-year-old goalkeeper, with the Premier League considered to be the most likely destination for a veteran performer not ready to hang up his gloves just yet.
Are those reported to be keen the right fit, though, and would Casillas add anything to their respective ranks? Goal weighs up the merits of moves to Merseyside, London or Tyneside.
---
---
The Reds are considered to be favourites with the bookies to secure Casillas' signature, and it is easy to see why.
Jurgen Klopp has endured problems between the sticks throughout his reign and the addition of a vastly experienced performer, even as a back-up option, would certainly help to right a few of those wrongs – especially as Simon Mignolet appears destined to head for pastures new after falling out of favour.
Casillas deserves a grand stage on which to see out his playing days and it may be that the standing ovation afforded to him during a recent trip to Anfield is not the last he receives from the Kop.
There is, however, as strong an argument against Liverpool bringing in the Spaniard as there is for a deal.
The 36-year-old can only be considered a quick fix and certainly would not arrive as No. 1.
If Klopp is prepared to put his faith in Loris Karius, then he should do likewise with Danny Ward – a Wales international who has done nothing wrong after proving his worth in a Premier League promotion-winning campaign at Huddersfield.
The Reds should decide ahead of the summer whether they want a ready-made first choice and spend big accordingly, or put funds, both on transfer fees and salaries, to better use elsewhere.
---
Newcastle
---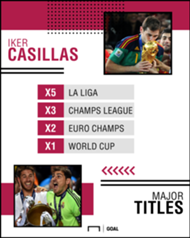 Rafa Benitez would provide a welcoming presence at St James' Park if Casillas is to end up on Tyneside.
The former Real Madrid boss will be fully aware of what the Blancos legend has to offer and the value his experience could provide in a squad still adjusting to life back among English football's elite.
Newcastle have been forced into regular changes at the back in recent years and a reliable last line of defence would be welcomed by the Toon Army.
The Magpies are, however, already well-stocked for keepers with Rob Elliot and Karl Darlow on their books, while Martin Dubravka has offered encouraging signs during a loan spell from Sparta Prague.
Would Casillas be a considerable upgrade on any of those in the twilight of his career?
---
West Ham
---
Any move to the London Stadium for Casillas will inevitably rest on the Hammers' ability to steer themselves clear of relegation danger.
There is no chance of him taking on a Championship challenge, with an English adventure very much Premier League or nothing.
West Ham may be in need of another goalkeeper if they do stay up, with a loan gamble on Joe Hart having delivered little reward, and the weight London holds in discussions with potential new recruits should not be underestimated.
Again, though, a side currently enduring another turbulent spell on and off the pitch should probably be looking at a picture much bigger than a man in his mid-30s if they plan on turning the corner and welcoming in a brighter future.
Casillas could, however, help to bridge the gap between two eras and could get the Hammers back on track before a more long-term addition is made.
---
---
Calls for the Gunners to bring in a new goalkeeper are mounting, with neither of their senior options at present inspiring an awful lot of confidence.
Petr Cech is not the player he once was, while David Ospina is understandably frustrated at a lack of regular game time and may look to head for the exits when the next window of opportunity presents itself.
If the Colombian were to move on, then Arsene Wenger – or whoever is at the Arsenal helm next season – would need another option to compete for starting duties.
Casillas may be that man, but his arrival would leave 35-year-old Cech working alongside a 36-year-old colleague.
Like Liverpool, if the Gunners feel the need to address supposed issues between the sticks, then they should be prepared to dig deep on an international-calibre talent who can slot seamlessly into the starting XI.
If they are happy to stick with what they have, then Casillas would provide useful cover and could share duties with a fellow seasoned veteran as Arsenal once again seek to compete on multiple fronts.
What is clear from all of the options outlined above is that there is no obvious Premier League fit for Casillas and that any move will see him either make peace with bench duty at the end of a career spent working under the brightest of spotlights, or take a sizeable gamble on an unstable outfit placing greater emphasis on a name than suitability for a vacant post.