World Cup Trophy Tour 2018
What a welcome! The FIFA World Cup Trophy Tour by Coca-Cola arrives in Panama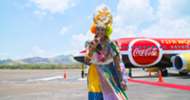 What a welcome!
Panama most certainly rolled out the red carpet for The FIFA World Cup Trophy Tour by Coca Cola this week.
After kicking off its tour of the Americas by taking in Argentina and Colombia last week, the most-wanted prize in world sports headed for Central America.
And was clear that the locals had caught World Cup fever ahead of a historic year that will see their nation take part in the FIFA World Cup finals for the first time in their history.
"I wish Panama the best in the FIFA World Cup and it is a pleasure to bring them the Trophy as FIFA's ambassador," said former France international David Trezeguet, who hopped aboard the FIFA World Cup Trophy Tour by Coca Cola last week in Argentina.
After taking in a fan festival and meeting Panama President Juan Carlos Varela, a memorable day ended with Trezeguet hold the trophy aloft at the world-famous Panama canal.
For more information on the Trophy Tour head to the official FIFA World Cup Trophy Tour Instagram or Facebook page!