A-League
Western Sydney Wanderers ban 14 RBB members
Goal Australia Chief Editor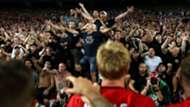 Western Sydney Wanderers have banned 14 members of the Red and Black Bloc (RBB) from any of the club's matches for 18 months following the display of an unauthorised banner against Sydney FC.
The Wanderers have also warned that any further breach of Football Federation Australia's (FFA) Spectator Code of Behaviour in the RBB's allocated area at stadiums or on the supporter group's official social media platforms will see the active area at Western Sydney home games shut down.
Western Sydney revealed on Wednesday that CCTV at ANZ Stadium has helped the club identify the individuals who concealed, assembled and displayed a homophobic and lewd banner depicting Sydney coach Graham Arnold conducting oral sex.
FFA to penalise WSW over banner
The tifo has been widely condemned by the media, fans and Western Sydney officials since the Sydney derby, although Arnold confirmed on Wednesday he has yet to receive an apology from the club.
The 14 individuals will need to "undertake a recognised social inclusion program" before the Wanderers will allow them back to watch their games.
"Following a thorough review of the incident on Saturday night including review of CCTV footage at the venue and examination of those involved and how they both concealed the banner's entry into the venue, its construction within the bay and display during the match we have acted to remove them from our club," Wanderers CEO John Tsatsimas said in a statement. 
FFA extend Wanderers' suspended points deduction
"This incident involved key leaders of the RBB who have shown no remorse for their actions of bringing our club and the game of football into disrepute and have continued to flaunt their disdain for the club and our diverse and inclusive membership family further on social media. 
"As a club we have had enough and have put the entire group on notice. While the vast majority of the RBB are exceptional in their support and actions for this club we must remove all those who see themselves as bigger than the club they support."
RBB slams FFA's response to vulgar banner
The vulgar banner was displayed during the second half of the Wanderers' 1-0 win over Sydney and was promoted on the RBB's Twitter feed on Sunday.
After FFA threatened the club and the group with penalties earlier in the week, the RBB hit back on its Facebook page and telling the national governing body to "f*** off".
Western Sydney are expected to be fined by FFA for the RBB's actions, while the club could also be in danger of losing three A-League points due to a suspended penalty that hangs over their heads from incidents involving flares last season and this season.