KPL
Were, 'Calabar' shine as Zesco United down Dynamos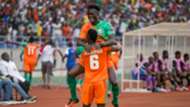 Kenyans Jesse Were and David 'Calabar' Owino have starred for Zesco United in the club's 4-2 victory against Power Dynamos during the 2017 Charity Shield semi-final match played on Thursday at Arthur Davies Stadium.
Were grabbed a brace while 'Calabar' scored a goal to hand head coach Zlatko Krmpotic his first win in a competitive match since his appointment.
Zesco United went to the match fully aware that they were facing the defending champions and were therefore set to start the match on a high tempo, a thing they realized in the 17th minute courtesy of Were.
'Calabar' then made it 2-1 in the 29th minute before Power Dynamos' Billy Mutale scored to his own net three minutes later. Lyson Sikaonga scored a consolation for Dynamos in the 42nd minute heding to the breather at 3-1.
On return, Were completed his brace in a match where other Kenyan midfielder Anthony 'Tedy' Akumu was also very instrumental. Dynamos then lodged a comeback campaign but only managed one more goal in the 85th minute from Larry Bwalya.
Zesco United will now meet either Zanaco or Nkana, whose match is underway at the same venue, in the tourney's final match.
Zesco United: Jacob Banda, Daut Musekwa, Fackson Kapumbu, Ben Adama Banh, David Owino Odhiambo, Kondwani Mtonga, Anthony Akumu, John Chingandu , Jackson Mwanza, Jesse Jackson Were and Dave Daka.
Subs: Lameck Nyangu, Marcel Kalonda, Bernard Mapili, Mwape Mwelwa, Lazarous Kambole and Patrick Kongolo.