Premier League
Wenger's tactics are madness - it's time for him to step down, claims Adam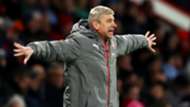 Stoke City midfielder Charlie Adam has claimed Arsenal are too easily outfought and labelled their attacking style of play "madness".
Gunners manager Arsene Wenger is once again coming under fire after his side's 3-1 defeat at Chelsea virtually eliminated them from the Premier League title race.
Neville slams 'embarrassing' Arsenal fans
And Adam believes their inability to end a drought without a league championship that stretches back to the 2003-04 season is a result of the lack of balance between defence and attack in their approach.
"The thing for Arsenal, I think it's the front six want to just go and win the game, and they let the four defenders defend, and that's it, that's how it becomes," Adam told BBC Radio Five Live.
"If you can get the ball back and get up the pitch quick you're straight into their back four, and that's the problem they've got.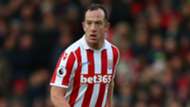 "They are missing [Granit] Xhaka at the moment, but people like [Francis] Coquelin sitting in there, they want to go forward, they've got the intention to go forward, and it leaves them so wide open.
"At the weekend, [Eden] Hazard runs the ball 60, 70 yards, throws Coquelin out of the way and he finishes it.
"That's the way Arsenal play, and at the moment, it's not happening for them, they are struggling. For an opposing team, that's how we feel we can affect them.
"They are great going forward, The front six can cause anybody problems, but when you get beyond that and straight at the back four, it can end up six versus four or five versus four, and you've got to punish them."
Asked if they ever change or tailor their approach to a match, Adam replied: "No, never. It's the same way, no matter if they are playing Stoke, Bayern Munich or Chelsea, they always try the same way.
"It is madness. I think that comes from a personal pride. Mourinho gets stick earlier in the season, but he goes to Liverpool, shuts up shop, he's happy with a point.
"I don't think Arsenal are happy with that. They think they have to win every game."
Scotland international Adam also believes that criticism Arsenal receive for lacking mental and physical toughness is legitimate.
"That's one of the things that's been labelled at Arsenal for a number of years," he noted. "I don't feel that they've got that drive, they just accept at Arsenal that it's another game.
Llorente opens up on Chelsea move
"Back in the day with Manchester United, Sir Alex Ferguson wouldn't be having that, he wanted to win everything, every trophy, and that's why he stayed in the game so long, and that's why he was a champion.
"I think Arsene Wenger as a person must sit down at the end of the season and say: 'I think [we've] gone as far as we can.' There is an opportunity for someone else in there."