Arsène Wenger
'Wenger walking 100 per cent the right call' - Arsenal exit backed by the man who made appointment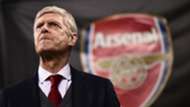 Arsene Wenger has "made 100 per cent the right decision" in stepping down at Arsenal, says Peter Hill-Wood, with it the "right time" for change.
After 22 years of stability in north London, a new chapter will be opened at Emirates Stadium this summer as an iconic manager prepares to sever ties with the Gunners.
Hill-Wood was the man to open an iconic era in 1996 when luring Wenger to England from Japanese side Nagoya Grampus Eight, with a relative unknown at that time having become a legendary figure in the coaching world.
The former Arsenal chairman feels a parting of ways is now the best thing for all concerned, with Wenger having opted to walk away with his reputation intact and legacy fully secured.
Hill-Wood, who vacated his post with the Gunners in 2013 after 31 years, told the Daily Star: "I think he has made 100 per cent the right decision.
"He has given us a hell of a run, he has been frightfully successful and I thought it was time he stepped down. I think he has found a very sensible way of doing it.
"It is the right time and the right thing to do."
Wenger still has 12 months left to run on the two-year contract he signed on the back of FA Cup success in 2017, but Hill-Wood feels recent struggles have hastened the exit of a man eager to preserve his standing in the eyes of the Arsenal faithful and wider football world.
"He is going as a hero," added the former Gunners supremo.
"If he hung around people would have gotten upset and he would have undone an awful lot of the good work he has done in the last 20 years, which would have been very sad."
There have already been plenty of protests against Wenger, a man who guided Arsenal to three Premier League titles, with Hill-Wood disappointed to have seen certain sections of the club's fan base turn against a figure who has done so much for them down the years.
He said: "Human beings can be very weird and some of them do slightly lose their heads."