African All Stars
We will learn from defeat, says Faith Football Academy's Adebowale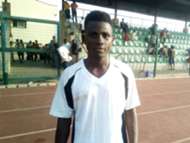 Adedayo Adebowale says that Faith Football Academy will learn from their defeat to Abray Sports FC after crashing out of the Lagos State Federation Cup on Monday.
The Ikorodu side were condemned to a 3-0 defeat by Abray at the Agege Stadium and the winger is sure that his side will learn from the losing experience to become better.
"If you are a good player and you want to improve whenever you lose you want to learn from it," Adebowale told Goal.
"Though I felt bad about it but there was nothing I could do, I tried all my best to at least put my team at the edge of the victory but it didn't come so I accept it as fate.
"Although we didn't get into the game in the first half and we didn't convert our chances too but I think we tried but you know the better team always win and I think they are better than us reason for the result.
"I felt bad about [my attempts] because it didn't work but I think I have to improve more on it to make it work next time," he added.
On plans after crashing out of the FA Cup, the winger said: "There are always other competitions ahead, we aim to participate in other competition since we have crashed out of the Federation Cup.
"I'm not expecting us to win all competition, we win some and we lose some," he concluded.