UEFA Champions League
'We have a lot to improve' – Caballero not satisfied with Man City victory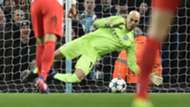 Manchester City took a significant step towards the Champions League quarter-finals on Tuesday, but goalkeeper Willy Caballero believes that his side must raise their game if they are to taste glory.
Now THAT is why we love football!
In a breathless game at the Etihad Stadium, they came from 3-2 behind to lead Monaco 5-3 going into the second leg at Stade Louis II in three weeks. It was an eventful match, not least for the goalkeeper, who was partially to blame for the visitors' opener but made amends by later saving a penalty from Radamel Falcao.
"I made a mistake in the first goal and we have a lot of things to improve, but we never gave up and the team was strong today, even when we conceded easy goals. We stayed in the game and finish up winning the game," he told BT Sport.
"It was a crazy game. Fortunately we won but we have to play against this fantastic team again. 
"We have to enjoy this but we don't have anything yet. The most important thing is we recover our mentality and team spirit."
The goalkeeper made an important contribution by thwarting Falcao, but played down the praise. 
"Fortunately for me and the team I chose one side. We studied Falcao and the rest of the penalty takers a lot and I have been lucky today to choose the right side," he said.
Caballero has largely played second fiddle to Claudio Bravo this season, with this just his 15th outing of the campaign.