Africa Cup of Nations
'We can't wait to take on Cameroon'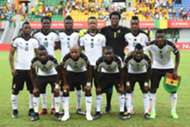 Ghana captain Asamoah Gyan expects a fierce challenge from Cameroon at the Africa Cup of Nations on Thursday, but remains confident in the Black Stars' chances.
The 2015 finalists are set to face the Indomitable Lions in the semi-finals in Franceville, Gabon, to determine who join Egypt for Sunday's final.
"It is a really big game for all of us and we cannot wait," Gyan said, as reported by Sports World Ghana.
"What we want is to get to the final and that is what we are focusing on. 
"Cameroon are a tough side but so are we. It's going to be an interesting and tough game but we're doing everything we can to make it to the final. 
"All we want is getting the ultimate and we are all in the right frame of mind to play a good game against Cameroon.
"We want to win, it does not matter how we play; all we want is to make it into the finals."
While Ghana accounted for DR Congo in the quarter-finals, Cameroon beat Senegal on penalties to reach the last four.
"Cameroon are a very good team and you can see how they fight and sacrifice for each other on the field," Gyan added.
"In the quarter-finals, everybody predicted Senegal to win [against them] but we all saw what happened. They fought like the Lions they are.
"The key for this Cameroon side is the togetherness in their team but we also have such togetherness in camp. They have young impressive players but so do we."
Gyan is expected to return to action against the Indomitable Lions after sitting out of the quarter-final tie due to injury.