Simba
"We are going to face a tough game" - Djuma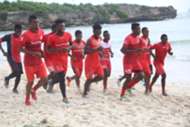 Simba Assistant Coach Masoud Djumaa expects a tough game against Kagera Sugar due to their rivals having a good team but is confident of taking all three points.
Djuma told Goal, that he knows the importance of winning the game and that's why he has travelled with all his important players.
"I know we are going to face a tough game against Kagera Sugar, but we have had good preparations to make sure that we win and bring back 3 points as we did against Singida United" said Djumaa
This will be the last game for the Burundian Coach in the Caretaker role with new Head Coach Pierre Lechantre set to take over.