Premier League
WATCH: Top corner! Ross Barkley's incredible Late Goals Challenge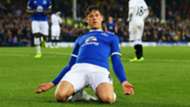 There are few leagues in world football more unforgiving than the ultra-competitive Premier League.
The margins are fine in a competition that regularly sees games won and lost in a heartbeat.
How players react in those high-pressured moments define the entire season, and Sure put Everton and England international star Ross Barkley's nerve to the test with their unique Late Goals Challenge.
The 23-year-old was given just 20 seconds to complete the task, as he was asked to control a pass while surrounded with opposition markers and fire his side to victory.
With time and space at a premium, the challenge recreates the tight confines and heart-stopping moments that make or break a top-level Premier League performer.
So how would the Toffees' hometown hero do? Watch the video and find out whether he was able to battle his nerves and allow his undoubted class to shine through.
The Goal Pressure Index is presented by Sure, Official Partner of Chelsea FC, Everton FC and Southampton FC. Join the conversation on Twitter @Sure.