West Bromwich Albion
WATCH: Salah and Man City stars lead the Goal Pressure Index Team of the Season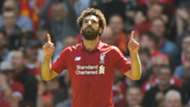 Another thrilling Premier League season drew to a close on Sunday as Swansea City's relegation was confirmed, Liverpool strolled into next season's UEFA Champions League and champions Manchester City hit the 100-point mark.
The PL's leading scorer Mo Salah of Liverpool joins a midfield and forward-line otherwise completely dominated by City stars in the Goal Pressure Index Team of the Season.
Pep Guardiola's worthy champions delighted all season, and his key players dominate the Goal Pressure Index Team of the Season, with David Silva the outstanding performer under pressure this campaign with a stunning season score of 90/100.
Below, Opta's Duncan Alexander take a closer look at the star players who overcame the pressure to lead their respective teams during another memorable Premier League campaign.
---
DAVID DE GEA (MAN UTD) - PRESSURE INDEX RATING: 75
---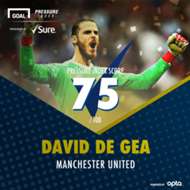 De Gea has been the outstanding goalkeeper in the Premier League this season, preventing an additional 13 goals compared to the average custodian.
His stand out performance came away at Arsenal in December when he recorded 14 saves, no Premier League keeper has ever recorded more in a game, while 18 clean sheets this season is two more than any other custodian in the league. 
---
ANTONIO VALENCIA (MAN UTD) - PRESSURE INDEX RATING: 79
---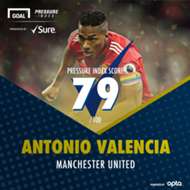 Man Utd have been adept at converting attackers into defenders recently and Antonio Valencia remains the ultimate example.
The Ecuador international appeared in 14 of United's clean sheets this season but also found time to score three times, with the pick of the bunch his certified scorcher he scored against Everton in September. 
---
ANTONIO RUDIGER (CHELSEA) - PRESSURE INDEX RATING: 76
---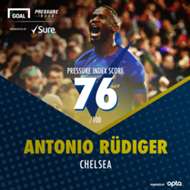 The best of Chelsea's new signings last summer, Rudiger collected 12 clean sheets this season and is one of only three players at the club to make more than 100 clearances.
He'll hope that his attacking colleagues can do more in 2018-19 and take some of the pressure off the Blues' defence.
---
JAMAAL LASCELLES (NEWCASTLE) - PRESSURE INDEX RATING: 76
---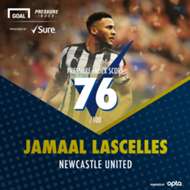 Newcastle's heroic progression to a top-half finish was testament to manager Rafa Benitez, and his rock on the pitch was defender Jamaal Lascelles.
Only five players made more clearances than Lascelles in the Premier League this season and he also scored crucial winning goals in consecutive games against Swansea and Stoke in September, both of whom were ultimately relegated. 
---
ANDREW ROBERTSON (LIVERPOOL) - PRESSURE INDEX RATING: 75
---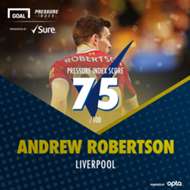 Left-back has been a problem position for Liverpool for a number of seasons but in Andrew Robertson they seem to have solved it. 
The young Scot had a superb first campaign for the Reds, his total five assists bettered only by four defenders all season. He also ended the campaign with a flourish, scoring Liverpool's fourth on the final day against Brighton as they sealed Champions League qualification with ease.
---
DAVID SILVA (MAN CITY) - PRESSURE INDEX RATING: 90
---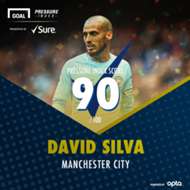 Manchester City's record breaking season was powered by plenty of young talent but an old master led the way.
David Silva assisted 11 goals (only in 2011-12 has he ever produced more with 15) but he also chipped in with nine goals, six of them coming away from home, a personal record. When the pressure was on, the calmness of Silva invariably produced gold.
---
KEVIN DE BRUYNE (MAN CITY) - PRESSURE INDEX RATING: 88
---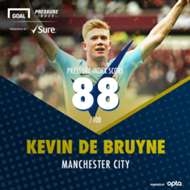 For a while it looked like Kevin De Bruyne was certain to break Thierry Henry's record of 20 assists in a single Premier League season, but although his creativity tailed off slightly in the final few weeks, taking the season as a whole, KDB was the standout architect. 
His total of 19 clear cut chances created was at least three more than any other player and only four fewer than Swansea managed as an entire team.
---
FERNANDINHO (MAN CITY) - PRESSURE INDEX RATING: 85
---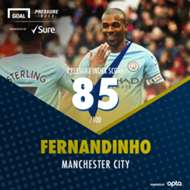 Completing a Manchester City-dominated midfield is Fernandinho, a man who was labelled an unsung hero by so many people that he is actually pretty sung. 
Even so, he was the shield that allowed his team-mates to tear the opposition apart. Averaging 88 passes per game, the Brazilian also managed to chip in with five goals and three assists, numbers with which creative fulcrums at many other teams would be delighted.
---
MOHAMED SALAH  (LIVERPOOL) - PRESSURE INDEX RATING: 80
---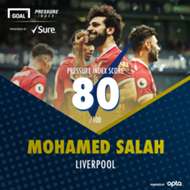 No-one predicted Mo Salah's season. The coolest man in front of goal in the Premier League in 2017-18 broke the record for the number of goals scored in a 38-game season when he slotted home number 32 against Brighton on the final day. 
No player scored more winning goals than Salah in 2017-18 and Liverpool can now boast one of the most dangerous players in world football. 
---
RAHEEM STERLING (MAN CITY) - PRESSURE INDEX RATING: 79
---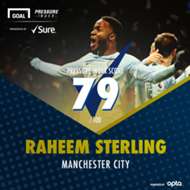 Unfairly criticised for his form and finishing in his first two seasons at Manchester City, Raheem Sterling was one of the key performers for City in their momentous league campaign, particularly in the first half of the season when they weren't runaway leaders. 
A late equaliser in against Everton in City's second game and a late, late winner against Bournemouth five days later set the tone for the club's imperious season. Without those goals, who knows?
---
SERGIO AGUERO (MAN CITY) - PRESSURE INDEX RATING: 74
---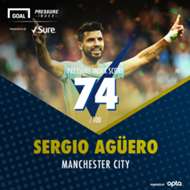 For the fourth successive season Sergio Aguero hit 20+ goals in the Premier League, with no player scoring more winners. 
He also became the top scoring non-European when he overtook Dwight Yorke, and there have been very few players who have been as consistent and cool under pressure as City's legendary Argentine. 
The Goal Pressure Index is presented by Sure, Official Partner of Chelsea FC, Everton FC and Southampton FC. Join the conversation on Twitter @Sure.