MLS
WATCH: Sounders come from behind to defeat Rapids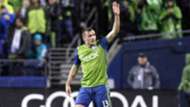 So much for a tentative start to the Western Conference final.
While many were expecting a tight match Tuesday, considering the Colorado Rapids' reputation for being defensively stingy and offensively conservative, the visitors traded early goals with the Sounders before Nicolas Lodeiro's second-half penalty gave Seattle a 2-1 first-leg win.
The Rapids grabbed a key away goal right off the bat, as Kevin Doyle's shot from the top of the box took a big deflection off Chad Marshall and floated into the back of the net.
That dummy though #Rapids96 grab a massive away goal early. #SEAvCOL https://t.co/OvsX3CT3Fj

— Major League Soccer (@MLS) November 23, 2016
But the Sounders responded six minutes later, as Cristian Roldan went on a strong run through midfield and rang the post before Jordan Morris cleaned up the rebound.
. @JmoSmooth13 on the spot! Tie game. #SEAvCOL https://t.co/2keWlKcSAs

— FOX Soccer (@FOXSoccer) November 23, 2016
Seattle ultimately triumphed after Lodeiro drew a foul in the box on March Burch and converted a 61st-minute penalty. While the Sounders take a one-goal lead to Colorado on Sunday, the Rapids do have an away goal on the board — along with an unbeaten record at Dick's Sporting Goods Park this season.
Nico Lodeiro netted his 4th goal of the #MLSCupPlayoffs, making him the #Sounders all-time postseason leading scorer https://t.co/dCCdL8hx4z

— Major League Soccer (@MLS) November 23, 2016