Maribor
WATCH: My GOTW – Neymar or Iniesta's amazing UEFA Champions League assists?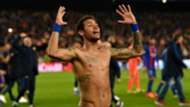 The UEFA Champions League has produced some of the greatest goals in football history.
But which were the best? Goal have been putting the question to some keen observers, asking them to debate which was their Goal of the Week, brought to you by Nissan.
After kicking off with some acrobatic efforts last week, the series continues by taking a close look at those who create the goals, honing in on two magical assists from Barcelona stars past and present.
Cheeky Sport Joel and Cheeky Sport Dave sat down ahead of Matchday 2 to relieve those most memorable of moments from the continent's elite club competition.
Goal of the week

Ahead of this week's UEFA Champions League action we're taking a look at the greatest assist goals in competition history. Which goal is the best?

Posted by Nissan Excitement FC on Tuesday, 26 September 2017
Neymar is now starring for PSG, but earlier this year he was their executioner, turning in perhaps the finest performance of his Barcelona career as he led was arguably the greatest comeback in European football history – his stunning assist in the 96th minute seeing Barca do the impossible.
But was it better than Andres Iniesta's two years earlier, when the Spain international charged through the entire PSG midfield before rolling in Neymar to score?
All week we will be discussing what makes a great goal and you can have your say by voting for which of these two you think was the best.
Don't forget you can vote for Goal of the Week from Thursday morning with Nissan!