MLS
WATCH: Montreal Impact hold off Toronto FC comeback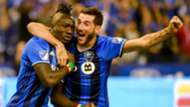 The international break didn't slow down the Montreal Impact's momentum.
The Impact continued their fine form in the postseason with a blistering start to the Eastern Conference final Tuesday, jumping to a three-goal lead and holding off a Toronto FC comeback to notch a 3-2 first-leg win.
Although the Impact had to sit pat for two weeks after their upset of the top-seeded New York Red Bulls — and another 40 minutes Tuesday because of bizarre field issues — Montreal opened the scoring in the 10th minute as Dominic Oduro slotted home following a Patrice Bernier through ball.
Perfect ball from @pbernier10 . Perfect finish from @Freakyfast8 . 1-0. #MTLvTOR https://t.co/TUUxn2lk2K

— Major League Soccer (@MLS) November 23, 2016
Matteo Mancosu made it 2-0 just two minutes later, burying a low cross from Ignacio Piatti to send Olympic Stadium into mayhem.
¡Señoras y señores, esto está de infarto!
No puede parar de anotar Matteo Mancosu. #MTLvTOR , 2-0. pic.twitter.com/H8LQ8Xb11d

— Fútbol MLS (@futbolMLS) November 23, 2016
Ambroise Oyongo gave the Impact a three-goal lead eight minutes after halftime, making an interception near midfield, taking the space in front of him and firing a bouncing shot past Clint Irwin.
Ambroise Oyon-goal. 3-0. #MTLvTOR https://t.co/80xpyzz8zg

— Major League Soccer (@MLS) November 23, 2016
But Toronto scored a valuable away goal in the 68th minute, as Jozy Altidore capped a frantic sequence with a headed strike.
First try: Post.
Second try: #MTLvTOR https://t.co/q76BDPo5vn

— Major League Soccer (@MLS) November 23, 2016
And TFC pulled another goal back five minutes later, as Michael Bradley converted a Tosaint Ricketts setup with a low shot from the top of the box. While Montreal held on for the victory, Toronto does find itself facing a manageable hole in the second leg Nov. 30 at BMO Field.
Michael Bradley: "No señores, este partido aún no termina". #MTLvTOR, 3-2. pic.twitter.com/17w9MWsVZz

— Fútbol MLS (@futbolMLS) November 23, 2016