Gaming
VOTE NOW | Ivanovic, Vida OR Škriniar? Who resembles more to FIREBREAK of Call of duty: Black Ops 4?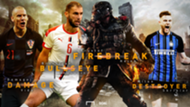 If you recall, we recently ran a poll to identify the one athlete that matches the specialist character of Ajax in the recently launched COD: Black Ops 4. It was Virgil van Dijk.
For our second poll, we are going to be looking at Firebreak – the enigmatic character who comes with some cool weapons like the flamethrower (Purifier) and a sort of container which has radiation in it.
You wouldn't want to be in front of the flamethrower if you understand the relationship between fire and past editions of COD. It can get really painful. These are people you just don't want to face in the battle field.
Branislav Ivanovic: Among the few that can adapt equally while playing as a center back. And he looks shockingly comfortable doing so.The Serbian also brings an attacking element to the squad with his name popping up in the goal scorers list more often than one would imagine from a player in that specific position. As for his defensive qualities, Ivanovic loves to tackle and knows how to play dirty when needed.
Domagoj Vida​: The Croat is known for his ability to win duels and one who has the ability to enter his name into the goal scorers list. He has the physical attributes of a number 3 but also has the mobility that many lack which is a great trait to have in the center of the defense.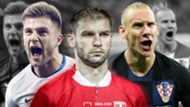 Milan Škriniar: The 23-yr-old Slovak has been a mainstay of Inter's squad this season putting some good performances every week. Lanky, fast and physical, Skriniar has the potential to make a name for himself in the game. While defensively, his positioning and decision making are improving on a weekly basis, he also possess a good footwork demonstrated by his ability to distribute the ball up the field.
So in your opinion, who is the player that matches the best with Firebreak? Vote below: