Videos
VIDEO: Maxi Rodriguez cracker gives Newell's Old Boys victory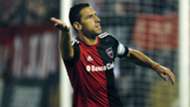 Maxi Rodriguez will go down in history as the scorer of one of the great World Cup goals, but the veteran Argentine struck another goal to remember for Newell's Old Boys against Atletico Rafaela on Saturday.
In the 2006 World Cup, Rodriguez scored a breathtaking volley against Mexico to put Argentina through to the quarter-finals, but while this effort was not quite in that league, it was still a moment of terrific technical quality.
After 63 minutes of the game, the winger received a cross delivered by Joel Amaroso from the right and sent a sweet shot by goalkeeper Lucas Hoyos.
Newell's went on to win the game thanks to Maxi, whose goal was the only one of the encounter.
​