Videos
VIDEO: Is this the WORST miss of all time?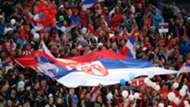 You're running through on goal, you're two yards out, the goalkeeper is in no man's land... What do you do?
Well, if this viral clip from Serbia is anything to go by, you decide to spoon the ball over the crossbar to the amazement of your team-mates and opposition players alike.
There are, of course, no shortage of contenders for the worst miss ever, but this surely takes the cake, as even the slight bobble before he shoots cannot be blamed for such a terrible shank. 
Many Twitter users have speculated that he couldn't do it again if he tried but, in fairness, it isn't hard to see why he's in the Serbian Fourth Division...
This is it. This effort from Serbia's fourth tier is officially the worst miss of all time. Note his teammate's pure disbelief at the end. pic.twitter.com/dNW9Jn2Ema

— Andy Ha (@_AndyHa) November 22, 2016