LA Galaxy
VIDEO: Ibrahimovic sent off for head slap after VAR review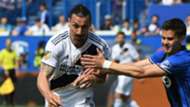 Perhaps Zlatan Ibrahimovic forgot Major League Soccer has video review.
The LA Galaxy striker's afternoon against the Montreal Impact was cut short Monday, as Ibrahimovic was sent off after 41 minutes for violent conduct after a review with the game scoreless.
Ibrahimovic came together with Montreal Impact defender Michael Petrasso minutes before. Petrasso backed into Ibrahimovic, stepping on his foot before Ibrahimovic retaliated with a slap to Petrasso's face.
After Video Review, Zlatan Ibrahimovic receives a red card for violent conduct. #MTLvLA https://t.co/qF8UcCZYuy

— Major League Soccer (@MLS) May 21, 2018
Both players hit the ground after with Ibrahimovic grabbing his foot and Petrasso his face.
The incident was missed by the referee Ismail Elfath, but unlike in the Premier League, where Ibrahimovic played prior to MLS with Manchester United, there was no need to wait until the league reviewed the events to mete out punishment.
VAR was instituted, and Elfath issued a yellow card to Petrasso for unsportsmanlike behavior and a straight red to Ibrahimovic for violent conduct.
The red card guarantees Ibrahimovic will miss out on the California Clasico with the San Jose Earthquakes on Friday. The Galaxy's three games beyond that include a home date with FC Dallas, a trip to Portland to face the Timbers and another home match against Real Salt Lake, should the league determine Ibrahimovic is deserving of further suspension.
Despite being reduced to 10 men, the Galaxy still managed to snap their four-game losing streak thanks to an Ola Kamara goal in the 75th minute, which gave the visitors a 1-0 victory over the Impact.
LA has not won since the last time Ibrahimovic scored, against the Chicago Fire, on April 14, but the win moves them up to seventh in the Western Conference. 
Overall the Swedish striker has three goals and one assist eight games since joining the MLS side in March.