PSG
VIDEO: Freestyler Touzani embarrasses PSG wonderkids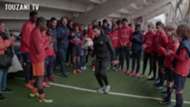 Soufiane Touzani has once again been up to his old tricks, and this time he's embarrassing PSG's wonderkids!
The Dutch freestyler, who has previously collaborated with the Feyenoord and Chelsea, took to the pitch against the Ligue 1 champions' Under-15 side.
And it's fair to say there were more than a few red faces come close of play, with Touzani showing off his dazzling array of skills.
However, he was matched by a few of the kids, who produced some spectacular tricks of their own, with one even nutmegging Touzani!
Take a look at the video below and decide if any of PSG's kids could soon be lining up alongside Neymar and Kylian Mbappe at Parc des Princes.
You can watch more videos like this on his own channel, Touzani TV.