Videos
VIDEO: Dele reveals how many times he gets hair cut per week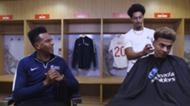 From his popular online gaming streams to the Dele challenge that so befuddled fans across the globe, the 22-year-old has proved himself something of a trendsetter.
It comes as little wonder that he was reluctant to rock some of the most infamous hairstyles in football history when Head & Shoulders, Official Hair Care Partner of the England Teams, invited him to sit down for a trim and chat with superstar hairstylist Justin Carr at St George's Park.
Back from injury, and looking forward to the upcoming games against the USA and Croatia, Dele discusses his highlights from the summer, the link between looking good and performing on the pitch and the origins of the Dele Line.
With the trim complete, hairstyle icons from the world of football come under the spotlight.
#GoScalpBrave to show your support for the Three Lions. For more information visit: https://www.headandshoulders.co.uk/en-gb/whats-new/dele-alli-reveals-how-he-gets-scalpbrave-football-hair