Chelsea
VIDEO: David Luiz schools Chelsea team-mate Willian in free-kick challenge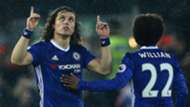 David Luiz has been showing why he is often entrusted with free-kick duty at Chelsea by upstaging team-mate Willian in an accuracy exercise.
The Brazil international team-mates may operate at different ends of the field, with one supposedly focused more on keeping opponents out while the other tries to unlock them.
Chelsea's top five teenage stars
It is, however, the more defensive-minded Luiz that has shown his colleagues the way to goal from set-piece situations.
He netted a spectacular effort in a Premier League meeting with Liverpool at Anfield in January, with his quick thinking catching Simon Mignolet cold.
That effort was all about the element of surprise, but Luiz is just as capable of powering the ball into the top corner if required.
The aforementioned goal against Liverpool remains Luiz's only effort to date this season.
He will, however, be hoping to get plenty more sights of the target before the campaign comes to a close, with Chelsea looking for everyone to play their part in a Premier League title bid.