WTF
VIDEO: Cristiano Ronaldo ex's Irina Shayk in titillating Ghost parody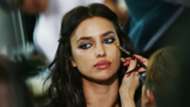 Cristiano Ronaldo's ex-girlfriend Irina Shayk has set pulses racing with a raunchy re-enactment of the iconic pottery wheel scene from the 1990 movie Ghost.
Shearer: Alexis is unplayable but he's STILL not world-class
The Russian model recorded the parody video for Love Magazine's advent calendar, paying homage to the Patrick Swayze and Demi Moore original.
The 30-year-old is rumoured to be expecting her first child with the American film star Bradley Cooper.
Carvajal apologises to Barca fans for middle finger celebration
Shayk told Spanish magazine ¡Hola! that she split from Ronaldo in early 2015 after she discovered the Real Madrid star had been sending flirty text messages to various other girls. If this doesn't make him regret it, nothing will!