Chelsea
VIDEO: Chelsea captain Terry scores with trick shot from behind the goal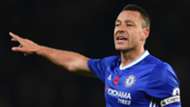 John Terry has taken to pushing his case for a recall at Chelsea with some trick shot work on the training ground.
Injuries and the form of others have restricted the Blues skipper to just 10 appearances this season.
The last of those came in a FA Cup clash with Wolves on February 18, while he has not graced a Premier League fixture since November 5.
Ousting the likes of David Luiz from the starting line-up is proving to be no easy task, although Terry has been displaying some Brazilian flair by netting from behind the goal.
Terry is now 36 years of age and is set to become a free agent at the end of the season.
Ndidi: I idolised Terry and Mikel
There has been no indication that fresh terms will be put to the long-serving centre-half, meaning that his 22-year association with Chelsea could soon be coming to an end.
He will be hoping to get more first team opportunities before bidding farewell, with his exploits on the training field intended to catch the eye of manager Antonio Conte.