Videos
VIDEO: Bayern comeback to beat PSG in Future Cup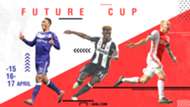 The ABN Amro Future Cup is underway and will be full of excitement if Saturday's game between Bayern Munich and Paris Saint-Germain is anything to go by.
The Under 17 tournament in Amsterdam sees some of the youth sides of Europe's elite compete over three days.
It took just seven minutes for PSG to show their quality when Junior Dina Ebimbe scored a lovely lob.
And the game continued in that vain, as Bayern fought back to claim a deserved win.