Arsenal
VIDEO: Arsenal's top 10 goals of the 2016-17 season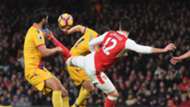 It wasn't the greatest of seasons for Arsenal. The constant Wenger in, Wenger out rhetoric, like a grim hokey cokey on repeat, left the club with ongoing issues throughout and saw rival fans and neutrals do the impossible: care even less about the Gunners than they had before.
Arsenal kicking themselves over Gnabry
And, for the first time in his career at the Emirates, Arsene Wenger finished outside of the Premier League's top four, meaning Arsenal have no Champions League football to look forward to for the first time in over 20 years.
But it wasn't all bad. The French boss led his side to a record 13th FA Cup and — more importantly — played some classic 'sexy' Arsenal football at some points along the way. 
During said journey, stand-out performers Alexis Sanchez and Mesut Ozil bagged themselves some truly remarkable strikes, while Olivier Giroud left fans' mouths agape with a phenomenal scorpion kick — who expected that?!
And so, the club themselves have put together their pick of the 10 goals of the season for the fans to enjoy. Check them out above and be sure to let everyone which is your favourite!