Lionel Messi
Victoria Lopyreva gives her verdict on Messi v Ronaldo and the world's most handsome footballer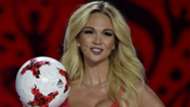 World Cup 2018 ambassador and model Victoria Lopyreva has given her verdict on who the best player in the world is, while also revealing whom she considers to be the most stylish man in football.
The former Miss Russia, who is a big celebrity in her homeland, has worked tirelessly over the last year promoting the World Cup and has been labelled as the 'Face of Russia'.
An actress, football television presenter and fan of Manchester United, Lopyreva has disclosed whom she prefers out of the two biggest stars at this summer's World Cup.
"If you are talking about my favourite player in the world, I think it's Lionel Messi," she told Goal during an exclusive sit-down interview in London.
"Of course, it's always a competition – Messi or Ronaldo. I have my own opinion about it and I respect both of them.
"And I like Neymar so much because he has amazing personality. He's a really great guy.
"But if you are talking about skills, if you are talking about what a genius he is, then I think it's Messi. If you are asking about my favourite player of Manchester United, then it is Pogba."
Lopyreva has been a massively successful model ever since being crowned Miss Russia back in 2003 and revealed who she considers to be the most stylish footballers in the world when it comes to fashion.
"Pogba's very impressive with his style and I think I would include him in my top three," she said.
"Neymar, he knows how to dress. He's a very stylish person, I like the way he is. He has his own personality.
"Cristiano [Ronaldo], I think is too simple. Maybe someone from Italian football. Graziano Pelle is very handsome.
"We celebrated New Year together this year, together with his beautiful girlfriend, also named Viktoria, Viky (pictured below).
"During Euro 2016, on my twitter, I created an award called 'Simpa of the Day'. 'Simpa' like the Italian word 'simpatico' – the most handsome of the day.
"Every day I would choose one player who was awarded by me the 'Simpa of the Day'. And Graziano always won every day he played.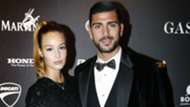 "The Russian media teased me about it. He was the 'Simpa of the Euros'. He's very handsome. He will win this award at the World Cup also, even though he [and Italy] won't play!"
While Lopyreva is excited about hosting next month's tournament and has predicted it will be the "best and safest World Cup ever", confidence among the Russian people in their own football team is low.
In April, Russia fell to a record-low 66th place in the FIFA World Cup ranking and many natives are worried they won't even get out of a group that features Saudi Arabia, Egypt and Uruguay,
However, Lopyreva is optimistic that Russia can spring a surprise.
"I like surprises," she smiled.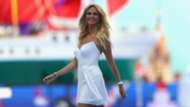 "I realise that even if they get out of the group, it is already something that will make Russian people very happy. But they are trying their best and I believe that the team-building and the energy from presenting their country in their own country will give them more strength.
"Obviously, it's very complicated to be in a competition with teams such as Germany or Argentina or Brazil because our national team doesn't have even one player playing abroad.
"If you take Egypt, they have [Mohamed] Salah. We don't have these international stars, but in football you never know. If you remember the Euros and Iceland, who would have expected them to achieve such results? Football is unpredictable and that's why I like it so much."
The 2018 World Cup kicks off on June 14 at the Luzhniki Stadium in Moscow as hosts Russia take on Saudi Arabia.