Mexico
Vela: I'd give Rafa Marquez my World Cup spot if I had to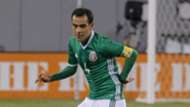 Rafa Marquez must be in Mexico's World Cup squad. At least that's what El Tri winger Carlos Vela thinks.
Vela went as far as to say that if push came to shove, he'd give up his on spot on Mexico's 23-man roster to make sure the Mexico legend makes his fifth World Cup.
The 39-year-old defender hasn't played for El Tri since the 2017 Confederations Cup. Shortly after, the United States Department of Treasury labeled him a frontman for a drug kingpin, but with more and more of his accounts freed up and freedom of movement restored he looks set to be included in the World Cup roster.
"About Rafa Marquez, I don't think there are enough words to describe what he represents to all Mexican players," Vela said after LAFC's 2-0 win over Minnesota United on Wednesday. "He has been and is an example for everyone, and if we have to take him by carrying him we'll do it so he's not missing.
"If I have to give him my spot, I'd let him have it. I think he deserves everything to close out his great career in a brilliant way and hopefully, like I said, it's not in my hands whether or not I go or whether he goes, but if he goes he'll surely be happy and the group will be too because we respect him a lot and he's a person who always supports the team, even if it's not on the field being with us will be important and he gives leadership that is unmatched in Mexican soccer because he's been around and played with the best players in the world and not just anybody has done that and I think that can help everybody."
As Vela alluded, it's manager Juan Carlos Osorio's decision who to take to the tournament - with members of the Mexican federation also having a say in Marquez's case because of the wrinkles. While Vela seems to be a certain inclusion, the 29-year-old isn't taking anything for granted until the list is announced Sunday.
"It's not whether I see myself there or not. I'm working to be there. Beyond that, it's not in my hands to say I'm going or not. I'm putting in effort every day, training well, taking care of myself, giving my maximum effort every game and hopefully that gets me there," he said. "It would be a beautiful opportunity to be in a group that I think is very good. We want to do something important in the World Cup, and hopefully I have the chance. If not, well, life goes on, I'll keep working the same way and supporting my teammates."
Mexico will take on Wales on May 28 at the Rose Bowl, not far from Banc of California where Vela currently plays his home matches, before a Mexico City send-off June 2 against Scotland and a match against Denmark in Copenhagen close out World Cup preparations.