United States
USMNT must vanquish Panama's golden generation one more time to grab World Cup spot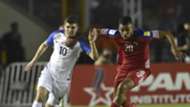 ORLANDO, Fla. — U.S. national team fans have spent the better part of the past month thinking about just how much is riding on Friday's World Cup qualifier between the United States and Panama, including the nightmare scenario that a loss would produce.
That angst hasn't carried itself over to the U.S. players, who have displayed a quiet confidence all week heading into a match with so much on the line. At least part of that confidence could stem from the fact that the U.S. boasts an impressive track record against Panama in big matches — a track record of victories that has kept Panama's current crop of veterans from tasting glory on multiple occasions.
The pressure is clearly on the U.S. to deliver a victory Friday or risk seriously jeopardizing its qualifying hopes, but there is just as much riding on the match for Panama, if not more. The nucleus of its team is pushing through what has to be its last World Cup qualifying cycle. Panama has never reached a World Cup, and while there are promising signs in the country's youth ranks, this will be the last shot for what is considered Panama's golden generation.
"They have a group that has a real mentality," U.S. captain Michael Bradley said of Panama. "You look at some of the experiences they had as a group, some of the success they've had, some of the moments where they've come close but not quite gotten where they wanted to. I think it all comes together in a way where they realize this may be their last chance as a group in terms of these players to do something special and qualify for a World Cup.
"Certainly from our standpoint, we expect a very motivated team, a group of guys that will come in here and be ready to give everything to keep their dream of going to a World Cup alive."
Panama has made things tough against the U.S. in recent years, having earned draws in the four previous meetings — including a penalty shootout win to grab third place in the 2015 CONCACAF Gold Cup — but those recent draws don't erase the reality that, since 2005, the Americans have posted some historic wins against the Canaleros.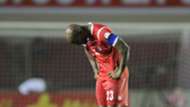 That run dates back to the 2005 CONCACAF Gold Cup final, in which the U.S. won in a penalty shootout over a Panama team that included current players Jaime Penedo, Felipe Baloy and Luis Tejada, who, along with Blas Perez, Gabriel Gomez and Roman Torres, have formed what is considered the best collection of talent in Panama's modest soccer history.
The U.S. proceeded to eliminate Panama from the 2007 and 2009 Gold Cups in the quarterfinals, then the 2011 Gold Cup in the semifinals. Panama made an impressive run to the 2013 Gold Cup final, only to fall to the Americans yet again.
That same year Panama suffered easily the most painful of its defeats to the U.S. in the final match of 2014 World Cup qualifying cycle. The already-qualified U.S. rallied late to beat the Canaleros in Panama, thus keeping the Panamanians from reaching their first World Cup while also clearing the way for Mexico to qualify. The Panamanian tears flowed on that night, as many of their veterans became overwhelmed at the thought their last chance at World Cup glory had been snatched away.
Another chance — a final chance — has presented itself four years later, with manager Hernan Dario Gomez rebuilding Panama's confidence and tightening its defense to enjoy an impressive run through the Hexagonal. The Canaleros have allowed just five goals in eight matches during the Hex, and will be expected to make things tough on a U.S. team that has had its issues with finding the net in recent matches.
"They're an organized team, they get behind the ball quickly and they're good on the counter," U.S. forward Jozy Altidore said. "It's paying attention to that and being sharp on the ball and not giving the ball in silly places because they're good on the counter. It's just being conscious of that."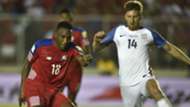 Defensively, the U.S. will look to improve on a poor September that saw some lackluster defending punished by Costa Rica and Honduras.
"We made a few bad giveaways in areas that we weren't prepared for and it cost us," U.S. defender Tim Ream said. "The good news is we have a chance to put things right. We understand even better now that we need to position ourselves well and be ready for turnovers. It's as simple as that."
The U.S. has faced Panama twice this year, both times settling for 1-1 draws. As much as they will be expected to bunker and look for the counter, the Panamanians will still be dangerous on the break, and on set pieces.
"Panama has a good mix of big, physical strikers with pacey, skillful midfielders," Ream said. "The strikers are good at holding the ball up and bringing the rest of the team into the play. We need to be aware of direct balls forward and the runs off them."
The Americans will be facing a motivated Panama side that will surely be looking to exact some revenge for some of the big-game losses of the past and, more importantly, move a step closer to its first World Cup in what is the last chance for its golden generation.
The task for the U.S. on Friday is a simple and familiar one: beat Panama in another big match and move a step closer to an eighth straight World Cup.
"We'll have a group of guys who are ready to go for it in a fearless way and make sure that we control every little thing we could control in terms of our attitude and mentality," Bradley said. "In the end, we're going to go for it, and let the chips fall where they may."