CAF Confederation Cup
Usman Abdallah hints at players overhaul after Caf Confederation Cup exit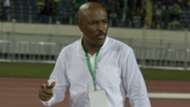 Enyimba coach Usman Abdallah has thumbed up the brave display of the People's Elephant in their 2-1 away loss to Raja Casablanca in the semi-final of the Caf Confederation Cup but alerted that there will be a minor overhaul of the team to ensure that they have players who can improve the club next season.
The People's Elephant were eliminated at the semi-final stage of the Caf Confederation Cup by Raja who dumped them out 3-1 on aggregate on Wednesday; they were quarter-finalist in the Federation Cup and they placed third in the Nigeria Professional Football League season.
Abdallah who oversaw the significant progress at Enyimba in the last seven years praised the untiring effort of his players and the support they had from the management and the Abia State government.
The former Kano Pillars coach stressed that overhauling the team to ensure that they have alternate players to fill up areas there are deficiencies in their campaign this just-concluded season has become necessary to ensure that the People's Elephant are more competitive in the coming season.  
"I am proud of the boys. They did very well," Abdallah told the media.
"We were able to achieve something even though Enyimba were unable to achieve their season's target. We have already recovered the two slots that we lost in Africa this year. We may not be the direct beneficiary now but maybe next year we might be.
"I am proud of the boys and I must say that they did well base on the hassles we have been through from the beginning of the competition until now when we got to the semi-final of the Caf Confederation Cup. I think it is one of the best performances of one of the clubs in Nigeria in recent seasons.
"Unfortunately we are not going to be in the continent next year but it is okay. The team needs regrouping. We have a few ups and downs. We are going to sit down and correct most of the mistakes and improve in certain places that we are weak.
"We will strengthen the places we are strong. Right now I think I have to vacate the boys to go and rest and enjoy the off-season. We will leave them for some couple of weeks to go and reunite with their family members before we will regroup for the start of the new season."