A-League
Usain Bolt decision must be made now by Mike Mulvey, says Graham Arnold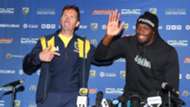 With Central Coast Mariners involved in ongoing discussions with Usain Bolt over a possible contract, Socceroos coach Graham Arnold believes a decision must be made now and urged for Mike Mulvey to be the one that makes it.
The Mariners coach admitted he had no clue about a potential contract on Sunday with the club confirming on Tuesday that an offer to Bolt had been made.
While his marketing potential is enormous, Bolt's football skills still need plenty of improvement and Arnold stressed a decision is needed soon with Mulvey the one man to make it. 
"It's come a time when a decision has to be made whether he's good enough to play in the A-League," Arnold said on Fox Sports. 
"Mike Mulvey's a championship-winning coach with Brisbane, he knows what he's doing.
"Usain has given great headlines for the A-League. We were in Dubai and the goals he scored a couple of weeks ago were front page of the newspaper in Dubai. So it just shows you the effect he's had around the world.
"But at the end of the day, Mike has to make the decision, he will make the decision whether Usain is good enough to play in the A-League."
Mulvey's comments on Sunday suggested Bolt has no place in his current Mariners side.
"You have a look at our front line today and you wonder whether he could get into any of those positions," Mulvey said. 
Arnold himself admitted he hasn't watched the Jamaican closely, but joked his tidy finish in a trial match could earn him a spot in the Socceroos. 
"I've been away for a long time so haven't seen his two games, just his goal here - which by the way is a good finish," he said. 
"Maybe we'll (Socceroos) sign him up...he hasn't played for Jamaica."