United States
U.S. facing unpredictable final hurdle on road to 2018 World Cup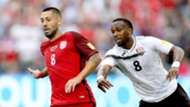 PORT OF SPAIN, Trinidad & Tobago — After a day spent wondering whether a waterlogged stadium might force the U.S. national team to play it's CONCACAF World Cup qualifying finale against Trinidad & Tobago somewhere else — or a day later — hot and sunny conditions blanketed the area ahead of Tuesday night's decisive match.
Though we shouldn't expect the playing surface at Ato Boldon Stadium to resemble that of the Camp Nou, all signs point to the U.S. being able to take the field and attempt securing its place to the 2018 World Cup. The Americans have their own fate in their hands, with a win — and almost certainly a draw — being enough to earn the U.S. one of CONCACAF's three automatic World Cup berths.
Qualification seemed like a foregone conclusion after the U.S. demolished Panama on Friday, with that 4-0 rout setting the stage for an expected comfortable result against a Trinidad & Tobago side that has lost eight of its nine previous qualifiers. That was before the unexpected scene on Monday of standing water surrounding — and covering parts of — the playing field where Tuesday's match is to be contested. All of a sudden, the unpredictability of CONCACAF had reared its ugly head again, leaving the Americans with the possibility that they would have to fight for their World Cup berth on a barely-playable surface against an already-eliminated opponent with nothing to lose.
"The team's ready to play. They come in here with confidence, yet they realize that this is going to be very challenging," U.S. coach Bruce Arena said. "I think Trinidad is going to give us their best effort."
There were plenty of laughs, and jokes, to be heard when the U.S. saw the stadium on Monday, but the consensus was the visitors would be able to handle the adversity that might be awaiting on Tuesday night.
"There's always something," U.S. captain Michael Bradley said. "It doesn't faze us. It's the reality of qualifying for a World Cup for us. You take it for what it is, you get a good laugh about it, and ultimately you make sure that in no way it throws off what we're trying to do and what we're all about."
"Every trip has been something new. I'm getting used to it," Christian Pulisic said of the unpredictability of CONCACAF. "I'm expecting anything. (The playing surface in Trinidad) is probably not the worst I've played on so it'll be alright.
"It can change the game, but in the end we're going to fight and we're going to do everything we can to win these games no matter what the conditions are."
Pulisic will be the center of attention as he faces the same Trinidad & Tobago team he lit up for two goals in June's 2-0 World Cup qualifying victory in Colorado. He was seen limping after Friday's win — a match that saw Panamanian defenders take turns fouling him hard — but on Monday Pulisic said he felt better, even though Monday's stadium conditions prevented him from really being able to test out his sore calf.
"The conditions kind of stopped that (on Monday) so we couldn't do too much at training," Pulisic said. "I got to move around a little bit and kind of see where I was at and I was feeling pretty good."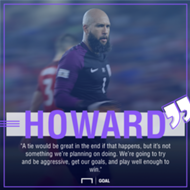 The Americans know that a draw can secure them a World Cup berth  — barring some extreme results in Tuesday's other CONCACAF matches — but neither that or the field conditions are likely to stop the U.S. from trying to go on the attack in search of a win.
"That's a slippery slope," U.S. goalkeeper Tim Howard said of playing for a draw. "A tie would be great in the end if that happens, but it's not something we're planning on doing. We're going to try and be aggressive, get our goals, and play well enough to win."
Veterans like Howard and Bradley know full well what is at stake, and as difficult as they know it will be, the sense around the U.S. camp is that a soggy field isn't going to stand in the way of booking their ticket to the World Cup.
"(Tuesday) going to be challenging. There's a possibility it won't look like a real good game, with the conditions and all," Arena said. "Hopefully there's not too much rain between now and kickoff, and the field conditions improve and both teams can play, but it could be the other way around, where the conditions are real difficult and it's a real slug fest.
"(Tuesday's) game is going to look a heck of a lot different than the game we just played."