Premier League
UEFA will not investigate Man City or PSG following La Liga complaint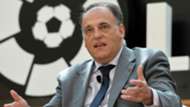 UEFA will not take any action against Manchester City or Paris Saint-Germain as a result of La Liga's complaint regarding state-backed sponsorships, Goal understands.
Spanish league president Javier Tebas had called for European football's governing body to more strictly enforce its own Financial Fair Play (FFP) regulations and open an investigation into City, as well as expand its ongoing investigation into PSG.
The complaint does not call into question the two clubs' summer transfer spending, instead focusing on allegedly inflated sponsor agreements with companies linked to the respective clubs' owners.
Tebas argued that City and PSG, backed by Abu Dhabi and Qatar respectively, are able to circumvent FFP by benefitting "from sponsorships that make no economic sense and lack any fair value".
"PSG and Man City's funding by state aid distorts European competitions and creates an inflationary spiral that is irreparably harming the football industry," he added. "UEFA must enforce FFP regulations to avoid discrimination among clubs."
As part of FFP, Uefa already aims to avoid such inflated agreements by downgrading any deal it deems to be inflated above market value.
Tebas insists City are able to avoid making drastic losses - which would see them fall foul of FFP - by boosting their income thanks to a number of deals with state-backed companies, including Etihad Airways, the Abu Dhabi Tourism & Culture Authority and First Gulf Bank.
Tebas also pointed to PSG's seven Qatari sponsorships with companies including Qatar National Bank, broadcaster BeIN Sports and the Qatar Tourism Authority.
But following Monday's complaint, sources at UEFA have told Goal that it will not take any action against City, nor will it widen the current investigation into PSG's summer spending, which was launched last week.
Both clubs were found guilty of breaching FFP regulations in 2014. At the time, UEFA downgraded a sponsorship agreement between PSG and the Qatar tourism board as it believed it was above fair market value.
In April of this year UEFA refunded both clubs €40m in fines after finding they had fulfilled their obligations in the ensuing years.
PSG are currently under investigation once again, however, following their €222m acquisition of Neymar and initial loan move for Kylian Mbappe this summer.
The French club have committed to paying Monaco €180m for Mbappe next summer.
Tebas had attempted to block PSG's move to sign Neymar from Barcelona by refusing to accept the €222m necessary to trigger the Brazilian's buy-out clause. Those attempts were scuppered when Barca subsequently accepted the money.