U17 World Cup
U17 World Cup : Brazil coach Carlos Amadeu looks forward to Spain clash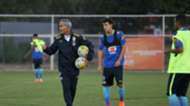 Brazil U17 head coach Amadeu was asked about the crunch game against Spain early on in the group stage and how they would combat the absence of star player Vinicius Junior. 
The Brazilian said that he was looking forward to the game against Spain and emphasized as to how both teams will want possession of the ball and play an offensive style of football which will be a treat for the Indian fans. 
"We do preparations before the match with videos, with stats. We know the style of Spain. It's independent if it's the first game, second game or the last game. We are always trying to win. We know the potential of this team and we know our potential and that's why it will be a great game for sure." said the Brazilian when he was asked about their tactics against the European giants. 
Amadeu talked about the importance of Vinicius Junior as a squad player during the South American Championship but asserted that the focus was now on the players that he currently has. 
"It's a fact that Vinicius was important for us. But right now we have to focus on the players that are here. It will be the same team that played in the South American Championships, the only difference is in the offensive line due to the absence of Vinicius."
"During the two years of preparations, we had many camps. All the players are used to playing with or without Vinicius. They are used to our system and strategy. We have many alternatives, we can play with a high line or a low line. That's why we have confidence in these guys."
The coach and the players know about the hype and expectations surrounding the Brazilian side but said that the experience the players gain from the tournament is what will help them the most. 
"It's important for us to want to win this competition. We know there are many great teams and it won't be easy for us. For these players, the most important thing is the experience.
The Brazilian captain Vitao talked about their solid defence and how the whole team does its bit to contribute. 
"Our offensive system starts with our defenders, Our defensive system starts with our forwards. That's why we didn't concede many goals in South American Championship."