U17 World Cup
U-17 World Cup: Luis Norton - 'India has to play with 12 players against USA'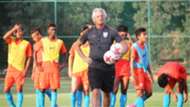 India coach Luis Norton has urged fans to support his team in numbers when they take to field against USA in their Group A opener of the Under-17 World Cup.
He stated that USA are far superior to India in almost every department but there is a slim chance for them to expose the opposition's weakness which they would look to exploit.
"US as Ghana and Colombia are three teams of a higher level. Every coach is  preparing very well. Players know very well what they will find tomorrow.
"Of course, football is a game in which you cannot know what will happen. I know of the possibility of a small weakness they have but always they are stronger. We will fight for this little possibility. We would like to write the history for Indian football. Of course the players are involved in the process. We hope we can play with 12 players – 11 players and the fans. I want the fans to support from the first minute to the last."
"It will be a big evening for India. I'm excited just as any other Indian. We have the conscience that we worked very well and very hard. The reason to be here is the AIFF and the government wanted a project (hosting the Under-17 World Cup) for Indian football. It's for this reason that we are playing the World Cup. This is the first step and first moment. I am excited to be a part of this."
Boris Singh will be suspended for the game and Norton said that he has two options to choose from.
"When I signed for the project, I knew Boris cannot play the first game. We have two different solutions and we will work very hard on this. We will start with a player who is ready for his job."
Norton also analysed the USMNT Under-17 and mentioned that he would have loved to have the attacking strength of the opposition at his disposal.
"When you analyze USA, after comparing with the Indian team they are good in almost every aspect. When you watch US playing and we watched a lot, of course, their philosophy is offensive. For me, I would like to have this variety of solutions in attack. With a fantastic players like the number nine (Josh Sargent), Akinola and Weah are very strong.
"For us, we will play as a collective unit and try to fight the strength and physique they have.  We know their players are good but we will try to make our game."