Tottenham Hotspur
Two Premier League goals since £17m transfer, but Janssen vows to stick with Spurs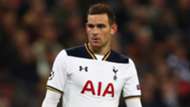 Vincent Janssen acknowledges that critics may "joke" at his Tottenham goal return but he has no intention of quitting the club.
The Dutch striker netted 31 times for AZ last season to earn himself a £17 million transfer to White Hart Lane.
Snapped up with the intention of complementing and competing with Harry Kane, the 22-year-old has managed just two Premier League goals and six in total this term.
Tottenham confirm Wembley switch
He acknowledges that he has fallen short of expectations but has sought to bring an end to any exit rumours by vowing to face his challenges head on, rather than run away from them.
Janssen told The Sun: "There have been a lot of rumours about me leaving but I have not been at the club for a year yet. When I joined I signed a long contract and I am happy here.
"Of course I am disappointed with my number of goals but I am not a quitter. I like the club — my team-mates, the staff, the fans, the training, everything — and we are doing well, so why would I leave?"
He added: "I have not scored as many goals as I wanted to but I know I have improved as a player and I am a better player now than I was last season.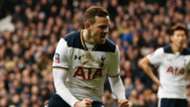 "I like it here, I really enjoy it. I think it's been a good season for me. I know people will see my number of goals and maybe joke at that.
"But this is my first season in a new country at a new club and I have learnt so much. People think because I am from Holland and we all speak English there would not be any problems.
"But everything in England is still new to me. I don't see my family or friends. The club have been brilliant with me and done everything possible to try to help me settle in.
Poch dismisses 'silly' motivation
"You learn always and I have learnt so much this season. I am always confident and I believe I will score more goals next season."
Janssen can point to his past achievements as proof that he is a capable frontman, with four goals in nine appearances representing a healthy return for Holland at senior international level.
He has, however, been restricted to just seven Premier League starts this season, with Kane once again leading the way in north London with 26 efforts across all competitions.