Tottenham Hotspur
Trippier doesn't expect rows with Eriksen over Spurs free kicks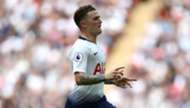 Kieran Trippier insists that he would never disagree with Christian Eriksen over the possibility of taking a free kick at Tottenham, after scoring against Fulham last week.
The England international's dead-ball prowess came to the fore in the summer, as he scored an exceptional free kick in the Three Lions' World Cup semi-final defeat to Croatia.
That goal led to calls for the defender to be placed on set-piece duty for Spurs and he repaid that faith by netting from 30 yards as Mauricio Pochettino's men beat the Cottagers 3-1 last weekend.
As a clash with Manchester United at Old Trafford looms, Trippier says he is not worried about the prospect of an argument with the Denmark midfielder, himself a set-piece specialist.
"No way, I'm not like that," he told the Guardian. "Fulham was my first game back and I felt good. Me and Christian, if we have a free kick and I place it but he says he fancies it then I'll let him take it, no problem.
"No problem at all. If he came up to me and said: 'I fancy this,' I'd say: 'Take it, mate.'"
Trippier is equally humble when it comes to remembering his strike against Croatia, the first goal England's senior team had scored in a semi-final since 1990.
"It's a World Cup semi-final but the day before, and throughout the tournament really, there was me, Youngie (Ashley Young), Trent [Alexander-Arnold] and a few other boys hitting free kicks well, to be fair," Trippier added.
"Before the game we were talking – which side did we want it on? – me and Youngie.
"It's all about who feels confident at that moment in time and I said: 'I feel confident, do you mind if I take it?' And he said: 'No problem at all.' I'm happy it went in but frustrated and disappointed about the result."
Despite his World Cup heroics, Trippier is not a guaranteed starter at Spurs, with the club blessed with depth at right-back.
Both Serge Aurier and Kyle Walker-Peters are also able to play at full-back, and Trippier says it ensures he strives for consistency.
"Serge has come in, who is great competition, and Kyle Walker-Peters has been excellent in pre-season. He's unbelievable and he deserves a mention because he works so hard on the training field and he deserves a lot of praise for the way he has conducted himself over the last 18 months," added the 27-year-old.
"There are three of us trying to play in the right-back spot and that's why you have to keep working hard, because the manager doesn't miss a trick.
"If you're off it, don't complain if you're not playing at the weekend."