African All Stars
Tottenham players once discouraged Victor Wanyama from shooting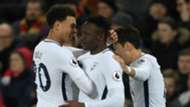 Tottenham players had at one point cautioned teammate, Victor Wanyama from attempting a shot on target after the Harambee Stars captain proved to be 'wasteful' with his strikes.
Wanyama confirmed earlier claims by Harry Kane that Spurs' players had previously proposed to him to desist from shooting, only for the Kenyan international to disapprove them with a ferocious shot in a 2-2 draw with Liverpool.
Wanyama came off the bench to score a beauty of an equalizer after Liverpool went ahead early in the first half.
The holding midfielder pounced on a rebound after Liverpool goalkeeper, Loris Karius punched the ball into his direction before the Kenyan skipper unleashed a beast-like ferocious stunner into the net to cancel out Mohamed Salah's opener.
"When I came on, I had a couple of shots and the last one they (players) were not happy and they said I should stop shooting, but I said 'I will continue shooting and one day one will end up in the net'," Wanyama revealed in an interview with Spurs TV.
"Sometimes you can shoot (like that) 100 times but you never score one so, I am happy to score this time around and help the team.
"I thought that the second half was much better. We had a feeling that we were going to score but unfortunately, we didn't until I came on and I got a goal."