MLS
Toronto, Sporting KC take different lessons from scoreless draw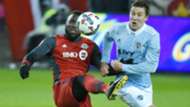 TORONTO — It wasn't entirely unexpected, but both Toronto FC and Sporting Kansas City were left feeling like they could have done more in Friday's 0-0 draw at a blustery BMO Field.
That there weren't any goals on the night could have been predicted, given that the teams had allowed a combined total of three goals against after three rounds of play in this young MLS campaign (now three after four). But both sides left gilt-edged chances unconverted in a game that was ultimately a reflection of the cold, windy conditions that beset Toronto at game time.
Larin thrives amid transfer rumors
"I think it was a hard fought match," Sporting KC defender Matt Besler said. "The weather conditions didn't make it for an easy night to play. I think from a mentality standpoint we did a great job, I think both teams had a couple decent chances there but nobody was able to put it away. I think a draw was a fair result."
As deserved as the stalemate was, the home side will certainly feel aggrieved at the lack of penetration after owning nearly 60 percent possession in the match. TFC looked comfortable everywhere except in front of goal, which led head coach Greg Vanney to describe the game as "frustrating." 
"We created some chances and we need to put one or two of those away," Vanney said. "There is a number of things we can continue to do and work towards to get better at, it is early in the season."
The lack of goal scoring was mitigated be a superb defensive outing by both sides. For the hosts, achieving a third clean sheet so early into the season is a silver lining on an otherwise forgettable home opener.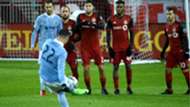 "We're a very difficult team to break down," said TFC defender Drew Moor. "We have a group of guys that defend very well and are difficult to break down. Other than that there are times when we enjoy going forward but for some reason tonight we didn't have that timely pass, that final ball just wasn't there."
The visitors had their chances as well — in fact, SKC out-shot Toronto despite ceding possession for most of the match — and on most nights the unfinished opportunities would be cause for concern. But given the circumstances Peter Vermes was satisfied with his team's overall performances, despite Friday being SKC's third scoreless draw in 2017.
"Two of our goal less ties were on the road," Vermes said when asked if he was concerned with SKC's low goal output over the first month of the season. "If we can hold a team on the road with no goals it is a great thing in their own place. Any time you are away from home and you have held the home team with no goals that is very, very good."