CONCACAF Champions League
Toronto FC out to prove MLS worthy of Liga MX attention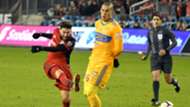 Both are the reigning champion of their league, pushed to success thanks to an ownership group that was willing to put more resources than others into the club. Neither has ever won a continental title, and their supporters are desperate for their club to do so. Tuesday's second leg of the CONCACAF Champions League quarterfinals between Tigres and Toronto FC is the best CCL matchup we've had in years.
The teams have so much in common. Yet, why do they sound so different?
Michael Bradley is clear. Toronto FC understands its role in this whole thing. An MLS team never has won the CCL, while Mexican teams have taken every edition — seven out of nine times beating another Mexican team to do it. Liga MX is king, and until someone knocks it off the throne, teams from the U.S. and Canada must view these games as a top priority. 
"These opportunities to test yourself individually and collectively at the highest level don't come around every single week — where there's so much on the line, even in terms of just perception, right or wrong," the TFC midfielder told reporters before leaving for Mexico. "The opportunity to prove ourselves to a few people who don't think we're as good or the quality of the league is as good.
"We take the responsibility very seriously," he continued. "We obviously put a lot into (the first leg) on Wednesday night and we're ready to do it again."
It's not that Tigres don't say they have respect for Toronto. It's that they don't have much to say at all. Eduardo "Lalo" Fernandez, the former RSL goalkeeper who is yet to play a professional minute with Tigres, was offered up to fill media obligations before the contest. 
"It's a good team. It has good players, is well coached. It's the champion of the league and we've got to be very aware and not undervalue the opponent at any time," Tigres manager Tuca Ferretti said in his prematch news conference.
Yet Toronto FC coach Greg Vanney understands the subtext there, and he sees the lineup. Playing a full team Saturday against club Tijuana, resting some key players in the first leg. Ferretti rarely tips his hand too much, but some in the Tigres board room haven't been so coy.
Tigres sporting director Miguel Angel Garza Martinez suggested the Canadian cold had frozen the brain of Toronto residents who believe Tigres will be dispatched. He know Tigres will be expecting to take the home result, moving on and forgetting about the pesky MLS team that pulled out a victory at home. Vanney thinks his team has the skills needed to move on.
"I think we're quicker. I think we're stronger. I think we're faster and more agile on the front side of things than they are on the back side," Vanney told the Toronto Sun.
The difference comes through in the press as well. Sure, some Mexican dailies and all the nightly talk shows focused on MLS after last week's positive results 
Today, it was back to the same. Daily sports newspapers Record and Ovaciones lead with Cruz Azul on the cover, while even one of the most popular sports websites in northern Mexico had a story on the officiating in the Tigres-Chivas final last year ahead of its CCL items. The northern editions of a few papers, like Cancha, has Tigres leading the way while national Esto says "To come back!" as its lead. 
Meanwhile in Toronto, the Sun has TFC on the front of its sports page while a number of national outlets have put the Reds' trip on level pegging even with NHL playoff projections and other ice hockey news.
This is a big deal for Toronto, while it becomes news in Mexico only if Tigres loses. They don't expect to do that. They really have no reason to. You know the stats about MLS teams going to Mexico and you've heard that Tigres are undefeated in their last 14 matches in El Volcan. Until Toronto, and other MLS teams, prove that things are different, Tigres and the legion of fans who support them have no reason to talk about these games any differently than the league matches they also expect to win.
It's on TFC to spark a discussion Tuesday night.