Transfers
Top Gauteng clubs ready to snap up Free State Stars winger Sinethemba Jantjie after contract talks stall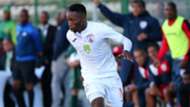 Free State Stars midfielder Sinethemba Jantjie has attracted interest from top Premier Soccer League (PSL) clubs after failing to agree on a new contract with the club. 
This is a according to the player's agent Ratshibvumo Mulovhedzi of Rush Hour Sports Management.
Ea Lla Koto opened negotiations to renew the talented attacker's contract which expires at the end of season, but talks have stalled. 

The 29-year-old is most likely to leave the Bethlehem-based club as a free agent next year if the parties fail to reach an agreement.
"Well, nothing has changed regarding contract renewal talks with Free State Stars,"  Mulovhedzi told Goal. 
The business manager indicated that they are not happy with how Stars have handled the situation regarding contract negotiations. 
"In fact, they are yet to come back to us with an improved offer because we only discussed the previous offer over the phone," he continued. 
"There has been no communication regarding another offer. We are obviously not happy with how things are going at the moment," he added.
The former Mbombela United winger has been linked with top PSL clubs such Bidvest Wits, Kaizer Chiefs, Mamelodi Sundowns and Orlando Pirates in the past.
Mulovhedzi went on to reveal that there are big local clubs which have registered their interest in the player with the current transfer window set to close at the end of this month. 
"Yes, there are clubs that have been put on alert after learning about the player's situation with Free State Stars," he revealed.
"However, I cannot disclose the names of the clubs that are interested in the player. For now, I can only confirm that they are big clubs they are keen to sign him," he concluded.
Former PSL title winners Wits, Sundowns (current league champions), Chiefs and Pirates are all based in the Gauteng Province.
Last November, Goal reported that Chiefs were working on a deal to sign Jantjie from Stars with the Soweto giants ready to sweeten the deal by offering William Twala.
However, Twala has since parted ways with Chiefs and he recently joined Free State Stars as a free agent.