Malaysia
TMJ gets consent to contest FAM President post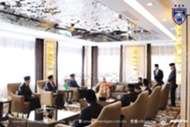 ---
 BY       OOI KIN FAI      Follow on Twitter
---
With only a month left to go until the Football Association of Malaysia (FAM) congress in March, things are to beginning to take shape as to how the football governing body of Malaysia will change.
The 53rd Congress is expected to be held on 25 March 2017 where a new line-up will take helm from the role of the President of FAM all the way down to the executive committee (Exco) members of the body.
Incumbent president, Tengku Abdullah has already signalled his intent not to contest for the top post and this means a real battle for undoubtedly one of the most desired seat in Malaysian sports.
Over the past few weeks, three names have emerged who are touted as frontrunners to be the nominees in Khairy Jamaluddin, Tan Sri Aseh Che Mat and Tan Sri Annuar Musa (TSAM). The latest rumours circling around is that TSAM will be dropping out from the race and a new but familiar name could make a late run for the presidency role.
Johor Darul Ta'zim (JDT) released via their Facebook today pictures of a meeting held between the Sultan of Johor, Sultan Ibrahim Ibni Almarhum Sultan Iskandar and 14 affliates of FAM. All of whom have will be putting their pledge supporting Tunku Ismail Sultan Ibrahim (TMJ), the Crown Prince of Johor as the next president of FAM.
Amongst those that could be seen in the pictures includes Yusoff Mahadi (Melaka United Soccer Association), B. Sathianathan (Football Coaches Association of Malaysia), Datuk Seri Subahan Kamal (Football Association of Selangor) and Astaman Abdul Aziz (Football Association of Kuala Lumpur).
The delegates of the FAM affiliate members were in Johor to seek consent from the Sultan of Johor to nominate TMJ for the FAM President post. TMJ has always shown that he will follow whatever decree his father sends out and Sultan Ibrahim was unequivocal in his address to allow TMJ to contest for the big post.
Having backed Tan Sri Aseh previously, it looks like the race for the top post will go down as a straight fight between Khairy and TMJ. It certainly looks like there will be a change of landscape in Malaysin football on the horizon.