PSL
Tinkler: We can't throw away Kaizer Chiefs win against Maritzburg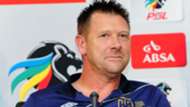 Cape Town City coach Eric Tinkler has warned his players not to take Maritzburg United lightly, given how they overcame the might of Kaizer Chiefs on Tuesday.
"The league is very tight this season. So what needs to happen now when we prepare for the Maritzburg game is that the players have to be brought back down to earth," Tinkler told IOL.
The Citizens secured a 3-2 victory with a last-gasp goal from Judas Moseamedi to keep their hunt for the title alive.
Defeat to Maritzburg will mean all their good work against the Amakhosi counted for very little, and as such will please Mamelodi Sundowns after they went to the top with a 2-0 win over Golden Arrows on Friday.
"All the good work against Chiefs will mean nothing if we don't get a result against Maritzburg. The players have to be psychologically ready for another challenge," Tinkler said.
"They shouldn't think that because they beat Chiefs that Maritzburg will be easy if they have this attitude, then we will come unstuck," Tinkler added.
Dwelling on their victory over the Amakhosi, Tinkler explained that he knew they would tire late on in the game, but in essence the game was there for the taking for either side late on.
"I always thought that Chiefs would tire late. I guess any team could have won it, but in the end our character and the players never-say-die approach proved to be the difference. And it's that attitude that wins a team the title," Tinkler said.