European Championship
Muller: Germany have to face up to pressure at Euro 2016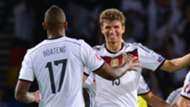 Thomas Muller accepts that Germany will be playing under the weight of expectation at Euro 2016.
Joachim Low's side lifted the World Cup in Brazil two years ago but were not wholly convincing in qualifying for the continental finals in France, losing to Poland and Republic of Ireland in Group D.
And Muller has warned his team-mates that they must prove a point this summer, with numerous teams desperate to stop the world champions from claiming yet another trophy.
"We face a big challenge," he told Omnisport. "As current world champions we will definitely be one of the favourites. For that reason there will be added pressure, pressure we'll have to face up to.
"We had some difficulties after the World Cup, and weren't perfect in qualifying. We want to show that we have developed, and are capable of competing for the trophy."
The last time Germany were crowned champions of Europe was in England 20 years ago, while they were beaten in the semi-finals of Euro 2012 in Poland and Ukraine by Italy thanks to two goals from Mario Balotelli.
Muller, who scored five goals at the World Cup, surprisingly failed to find the net in the disappointing finals four years ago, but he insists that claiming the Golden Boot in France is far from his top priority.
"Of course, goals are a big part of my game, but generally I have never been a striker whose main quality is scoring goals. It's great for me and for the team when I score goals, but I'm not focused on topping any goalscoring charts," he added.
The Bayern Munich man also feels the overall quality of the tournament will suffer given the increased number of participants to 24.
"These Euros won't have the same density of quality as the last one did, because the number of teams has been increased. But nowadays there aren't any easy teams to play against anyway.
"Physical fitness is something everyone can achieve; every team can run and defend well. We will have to deal with the counter-attacks that come our way, but that's why we will be the favourite in each of our three group games."
Germany have been drawn in Group C, alongside Northern Ireland, Poland and Ukraine. Their first game sees them take on Ukraine in Lille on June 12.