Arsenal
The truth about Arsenal's pursuit of Edinson Cavani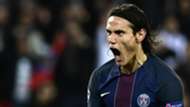 ---
SPECIAL REPORT
---
Arsenal have been linked with Edinson Cavani for the last few seasons but that interest has never amounted to anything as concrete as many believe.
Dortmund & Legia make CL history
The Gunners scout hundreds of players every single season and Cavani has been on a transfer shortlist of forwards for several years. However, Arsenal's pursuit of Jamie Vardy over the summer exemplified what kind of deal the club were looking to secure - value for money, combined with a reasonable salary and overall experience. Cavani only had one of those. 
Cavani has never asked to leave Paris Saint-Germain, even when Zlatan Ibrahimovic eclipsed him as the pin-up boy of the French capital. The Uruguay frontman scored 19 goals in 32 league games last season despite playing much of the campaign out of position due to the Swede's prominence as the main forward at Parc des Princes. It was a testament to the player himself that he could be so prolific even when things weren't going totally his way, and that patience has now been rewarded. 
Still only 29 years old, the decision not to make a bid for Cavani may be one that Wenger lives to regret. He would have arrived for a huge transfer fee in the region of £40-£50 million and demanded a salary of at least £200,000-a-week. The powerful striker has scored 20 goals in 20 games for club and country this season and continues to look like the kind of player who would fit in at a top flight Premier League club.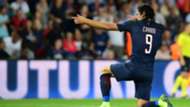 His goal against the Gunners in the opening Champions League group A match in Paris almost proved to be the nail in the coffin for Wenger's side. It was another warning from a player who possesses all the qualities to play for any team in world football. While Arsenal stick with the fatigued Alexis Sanchez and a reinvigorated Olivier Giroud through the middle, you can't help thinking that Cavani would have been exactly the player to bolster the club's attacking options.
Barca want N'Zonzi as Busquets back-up
Indeed, the jury is still out on Spanish forward Lucas Perez whose 17 goals and 11 assists in La Liga last season make him an unknown yet exciting quantity in English football. While he makes his recovery from injury it is up to Chile star Sanchez and French striker Giroud to continue their excellent form. Arsenal have stuttered over the past few games and despite an unbeaten run of 17 games their performances have not looked convincing since the 3-0 win over Chelsea and 6-0 thrashing of Ludogorets.
Cavani meanwhile will have no better stage to showcase his talents on Wednesday night. Unai Emery's men boast several world class talents and the striker that Arsenal have passed up on over the past few years will be desperate to do the damage and gain top spot in group A for the visiting Parisiens.