MLS
The MLS Wrap: RSL's revival, Red Bulls' rut and more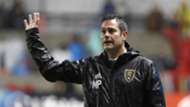 Major League Soccer has long been known for treating us to surprise results on a regular basis, but this past weekend's slate of matches took the concept to another level.
Five teams stepped up to beat sides with better records in MLS Week 29, with four of those defeats being suffered by teams currently in the playoff positions. The fifth team was FC Dallas, which continued its inexplicable winless slide with a lopsided loss at Minnesota United.
The Vancouver Whitecaps avoided the upset bug and continued on their march toward an improbable first-place finish. Carl Robinson's men retained their one-point lead atop the Western Conference, while Sporting Kansas City and the Portland Timbers remained in hot pursuit with victories. 
The Seattle Sounders were the West contender to slip up in that chase for first place, falling to a surging Real Salt Lake side that has won four of five matches and suddenly doesn't look like a playoff long shot.
Toronto FC's quest to lock up the Supporters' Shield marched on, even with TFC's 2-1 loss at New England. The Canadian club edged closer to the Shield with the help of New York City FC's stumble in a 1-1 draw against Houston — a result that not only shrunk NYCFC's tiny hopes of grabbing the Shield, but also allowed streaking Atlanta United to pull within three points of second place in the East.
Here is a closer look at the key storylines from MLS Week 29:
---
PETKE'S PUPS HAVE RSL ROLLING
---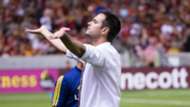 When Mike Petke was hired as Real Salt Lake coach back in March, he took over a young team in disarray, one that looked like it didn't have the attacking weapons or defensive strength to be a serious contender. By all accounts, he was being handed the keys to a fixer-upper — one that would take a long time to repair.
Just six months later, that lost cause Petke inherited has been transformed into a force. A combination of key midseason additions, the emergence of some impressive youngsters and Petke's guidance has RSL looking as dangerous as any team in the league.
Saturday's 2-0 win against Seattle not only snapped the Sounders' 13-match unbeaten streak, it served notice that this RSL team has made the evolution from reclamation project to serious contender.
"I don't think tonight was the perfect game for us, or close to the perfect game," Petke said after Saturday's win. "I could think off the top of my head five other games this year, some obviously that we haven't won, that I thought we played better.
"But the one thing you that I think that you see from this team is the mentality shift over the last couple of months that, perhaps when I first took over, or before I took over, this is a game we would have lost," Petke added. "But the mentality has shifted dramatically, and that's all on the players."
The proof is in the results. RSL began the season 2-7-2, including the 0-2-2 start that preceded Petke's insertion as the replacement for Jeff Cassar. Now, a 7-2-3 run, capped by recent home wins against Portland and Seattle, has RSL with a firm hold on a playoff spot that looked like a pipe dream back in March.
There are plenty of reasons for the resurgence. You can start with the solidifying of the defense, which was an absolute mess in the first half of the season.There was a stretch of nine matches from April to June that saw RSL surrender three or more goals a whopping five times, including consecutive blowout losses by a combined score of 11-3.
It is no coincidence that Justen Glad returned to the starting lineup just as RSL began to stop bleeding goals. The defender has been outstanding since his return from a knee injury suffered with the U.S. Under-20s, and RSL general manager Craig Waibel helped Glad and the RSL defense by also signing Uruguayan center back Marcelo Silva. RSL is 3-0-3 when Glad and Silva play full matches together, and RSL's defense has allowed just four goals in those six games.
"I've said it before, Justin plays beyond his years," Petke said. "There's so many intangibles that I could talk about with Justin — about his touch on the ball, his pace or his athleticism — but he reads the game far, far better than any player at his age, I think, in this league."
RSL's biggest addition during the season was Venezuelan midfielder Jefferson Savarino. The young designated player is only 20, and arrived in MLS without much fanfare, but Savarino has been dynamic since joining in May. He has recorded six goals and five assists, but more importantly he has helped playmaker Albert Rusnak elevate his game by giving opposing defenses another creative player to worry about. As a result, Rusnak has recorded five goals and 10 assists since Savarino arrived.
With a solidified defense and potent attack, RSL has become a handful in the wide-open Western Conference. RSL has also managed to turn Rio Tinto Stadium into a fortress again. Saturday's win against the Sounders pushed RSL's unbeaten run at home to seven matches, including a current streak of four straight wins.
"We're a very dangerous team at home," Petke said. "Altitude always plays a factor with every team, so what we don't want is for teams to come in and come at us the first 20 minutes because they know they're going to tire out. We want to put it at them."
The Sounders became the latest team to struggle to keep up with RSL. After a fairly even first half that ended scoreless, RSL rattled off a pair of second-half goals, as well as its fourth shutout in six home matches, to topple the reigning MLS Cup champions.
RSL hasn't secured a playoff berth just yet — the Houston Dynamo and FC Dallas lurking on the opposite side of the red line will ensure a tight race in the West — but given how well Petke's team is playing these days there aren't as many questions now about whether RSL will make the playoffs. The question now is just how far can RSL go?
---
RED BULLS IN A RUT
---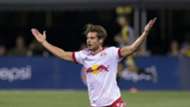 The New York Red Bulls were sky high Aug. 16, after fighting off FC Cincinnati to reach the U.S. Open Cup final. They were in comfortable playoff position and had now secured a place in a final as they searched for that elusive trophy to place alongside the two Supporters' Shields in their case.
Things haven't gone very well since. The Red Bulls lost to Sporting KC in Wednesday's U.S. Open Cup final, then traveled to Columbus for an eventual 3-2 loss that extended their winless slide to six matches. They have slipped five points behind the Crew for fifth place, and sit just three points ahead of the Montreal Impact for the final playoff spot.
What has gone wrong?
The reality is the Red Bulls haven't been playing badly as a whole, but they've been let down by specific areas of the game in every match, with finishing proving to be a more consistent issue. Against the Crew, it was set-piece defending that the Red Bulls couldn't get right. Prior to that, against the Philadelphia Union, it was an attack that couldn't get a shot past Andre Blake despite creating several chances. In a draw in Chicago, it was a lack of scoring chances created despite a considerable edge in possession.
The Red Bulls continue to have success with pressing teams into turnovers and controlling possession, but the attack just hasn't been able to do much with that possession. The injury absence of winger Daniel Royer has hurt — he was, after all, MLS Player of the Month in July — and without him to help stretch defenses, the attack just isn't finding much on a consistent basis.
Should Jesse Marsch re-consider the 5-4-1 system he adopted back when the current winless slide began? It's tough to say because that system is helping put pressure on teams, and the Red Bulls have been able to control possession and create chances. Will changing the system again actually address the team's problems with set-piece defending and finishing chances? Probably not, so Marsch may have no choice but to stand pat while trying to work on tightening up his team's set-piece defending.
Things aren't going to get much easier for the Red Bulls down the stretch. They need a win against D.C. United at home on Wednesday, because the three games after that are against Toronto, Vancouver and Atlanta, which happen to be three of the top five teams in the league at the moment. Anything less than a win Wednesday could open the door wide open for Montreal and even New England for the final playoff spot in the East.
---
ATLANTA UNITED ROLLING, BUT AT WHAT COST?
---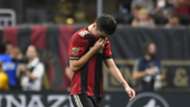 The Atlanta United freight train continued to roll through opposition this weekend, with Montreal serving as the latest victim on a run that has seen the Five Stripes climb up to third place in the East. There isn't much to be unhappy with these days if you're an Atlanta fan, but the recent run of matches has led to an issue that could plague the first-year club.
Miguel Almiron was forced out of Saturday's win in the 17th minute with a hamstring injury, and Atlanta announced Monday that the playmaker will miss a minimum of three weeks. It is an injury that has raised serious questions about coach Gerardo "Tata" Martino's squad rotation during the team's recent stretch of matches.
Almiron had played in every match this season, and started all but two — this despite Martino having other options at his disposal in order to give him a rest. That decision was a highly questionable one, especially given the fact that Almiron played in all but 13 minutes of Paraguay's two World Cup qualifiers in early September. In total, Almiron was making his ninth straight start in a one-month span — for club and country —  when he took the field against Montreal. Given that extreme workload perhaps it shouldn't have come as a surprise that he would break down physically.
Almiron is a passionate player, one who wants to play every minute he can. He's also young, at 23, and isn't a player who is going to ask for a rest. Martino needed to do him a favor and give him a rest at some point in this stretch of matches, especially given some of the opponents the team has faced, and demolished with ease.
The frustrating part for Atlanta United fans is that it isn't as if the team doesn't have other midfield options available in order to give Almiron a rest. Rookie of the Year candidate Julian Gressel is an option in midfield while Yamil Asad has shown himself to be more than capable of handling playmaking duties.
Atlanta will be praying that Almiron's injury doesn't become a long-term setback, because his absence would be a crushing blow, especially if it were to carry over into the playoffs. Hamstring injuries can be tricky things to deal with, and require patience. If Almiron does manage to recover fully in time for the playoffs, Martino will count himself lucky, and it should make him take a closer look at how he utilizes his bench the rest of the season.
---
QUICK KICKS
---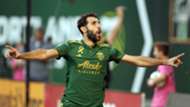 Diego Valeri's MVP candidacy received another boost with his two-goal effort in Sunday's win against Orlando City. He has taken over the lead in the Golden Boot race, edging one goal ahead of David Villa. To put Valeri's season into perspective, he has recorded either a goal or assist in a whopping 22 of his 29 matches. By comparison, Villa has notched a goal or assist in 17 matches this season.
—
There isn't much to talk about with the LA Galaxy these days, what with their season having become a complete disaster, but Sigi Schmid helped create a talking point by moving Gyasi Zardes to right back in Saturday's loss to Sporting Kansas City. 
"We needed a right back," Schmid told reporters Saturday. "We had nobody and I think Gyasi's strength is wide whether it's wide midfield or in the back. Gyasi for his first game at right back had an excellent game. There are obviously things he can pick up on, but overall, he handled a difficult situation very well."
Schmid's assessment of Zardes' performance was extremely generous, but in the context of a season that has seen several players struggle badly at right back, perhaps Zardes was being graded on a serious curve.
It was interesting to see the experiment take place against Sporting Kansas City, which has enjoyed considerable success with its decision to move Graham Zusi to right back. While the Zusi move looks like it will be a permanent one, it's tough to see the same happening with the Zardes switch.
—
Seattle's loss to RSL ended the league's longest unbeaten streak. That distinction is now shared by the Crew (4-0-3) and Whitecaps (5-0-2), who are both unbeaten in seven matches. Atlanta is close behind with a six-match run (4-0-2).
On the other end of the spectrum, Dallas' 4-1 loss to Minnesota extended its winless slide to a whopping 10 matches. No other team in MLS has a winless streak of more than six matches at the moment.
---
BEST OF MLS WEEK 29
---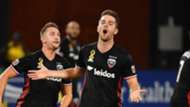 Player of the Week: Patrick Mullins. A four-goal outburst to help D.C. United demolish San Jose made Mullins the easy pick.
Team of the Week: Real Salt Lake. Atlanta beat a pair of bad teams, but RSL posted an impressive shutout win against a Sounders side that had been unbeaten in 13.
Rookie of the Week: Julian Gressel. The young midfielder replaced the injured Almiron and delivered an assist in the win over Montreal.
Goal of the Week: Though Hector Villalba and Marco Donadel had top-class strikes this week, the pass-and-finish combination from Christian Ramirez to Miguel Ibarra takes this week's prize:
One Time 4 Your Mind@Migue10Ibarra's beauty is up for @MLS Goal of the Week!

Vote » https://t.co/LzVOeCoaTc | #MNUFC pic.twitter.com/i0qxF8AIMU

— Minnesota United FC (@MNUFC) September 25, 2017