Opinion
The Miseducation of Victor Moses: Chelsea stalwart in danger of losing relevance with Nigeria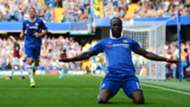 ---
COMMENT    By Solace Chukwu     

Follow on Twitter
---
As Chelsea edged past Tottenham at Wembley on Saturday, it was interesting to observe the continued evolution of Victor Moses . The season has worn on, and this slow shedding of his previous identity has drawn, first bemusement, and then wonder, and now musing coupled with genuine admiration for both player and coach.
For Antonio Conte, top marks for recognizing in Moses what was not readily apparent: that a player who seemed to perform only for the flourish could be taught the very things that have caused his Stamford Bridge career to stall time and again.
This is, after all, a winger whom Jose Mourinho, that archbishop of defensive application and tracking back, preferred to ignore to an almost morale-shattering degree. Were it obvious that he could morph into what he now is, there can be no doubt the Manchester United manager would have found him useful during his stint at Stamford Bridge.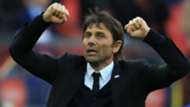 The player himself, either by self-denial or by simply having a road to Damascus moment, has knuckled down and learnt the graft required. If the latter, then it may even be that both Conte and Moses met at just the right time and in just the right circumstances: at the precise juncture when both realized they had to make a change or risk oblivion; the former Juventus man himself belatedly repairing to a system with three central defenders and flying wing-backs that many had considered his bread and butter from his time in Turin.
Game to game, it has been fascinating to watch.
Victor Moses | Premier League stats 2016-17
There has been more to it than the essential but increasingly cliché 'hard work' trope, of course. Moses has been taught extensively, drilled in his defensive duties, in judging distances, in maintaining width, knowing when to attack the space created by the left-sided emphasis of Chelsea's build-up. When Dele Alli stole in at the back post to steer home two Christian Eriksen deliveries four days into the New Year, Conte was not tempted to pitch Moses out the door, even with the transfer window open.
The very next couple of games, you could find the player more obviously attentive on deep crosses, at one time notably out-jumping Andy Carroll to clear in the 2-1 victory away at West Ham in March.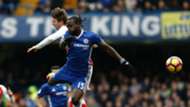 In his canny exploitation of Son Heung-min's naivety for Chelsea's second goal at Wembley, there was a sense of culmination, of completing an arc. It was trickery, but not of the prankish type with which he had long been associated with. This was entirely functional, lucid and rational, coldly team-focused.
It is here that a paradox is revealed. For all that his recalibration has made him indispensable at Stamford Bridge, there is a doubt as to just how useful he can be playing with the Super Eagles.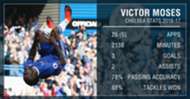 For one thing, his role is so system-specific that, even within the club, there exists no proper replacement for him in the event of injury. It is not the same as, say, pushing a full-back a couple of yards forward. With Nigeria, the puzzle is even greater.
There is an obvious example with national team captain and former teammate Mikel John Obi, but even in general, the Europeanization of African players can be a double-edged sword. Out goes the expressive streak, and in comes a mould, a template of bland sameness that leaches all individuality. The raw instinct with which the typical African footballer plays may not exactly be efficient, but it is certainly more useful playing within a continent where the pitches are poor and the tactical level is still middling.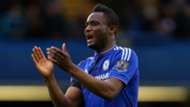 Yet, it is the price players of African descent often have to pay for personal advancement.
Geremi Njitap went from powerful wide midfielder to wing-back to full-back (even at a point centre-back) in order to play for Real Madrid and Chelsea; Samuel Eto'o, on the Ballon d'Or ballot five years before, went in the opposite direction to convention by playing out wide as he moved into his physical prime.
The aforementioned Mikel, having caught the eye as a dainty, roving distributor, dropped 10 metres and donned the cloak of destroyer.
All experienced success and received accolades, but arguably saw their potency and raw threat on the international stage wane. Geremi became the model of clockwork consistency with Cameroon who somewhat incongruously could hit a good free-kick; Eto'o's scale began to tilt more markedly toward disruptive influence with the Indomitable Lions after 2008; as for Mikel—well, you know that story.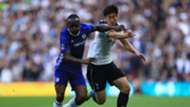 Moses has not featured for the Super Eagles since the November thumping of Algeria in Uyo, a game in which he scored twice and earned plaudits all-around. And yet, it was notable that only after an early switch to move him to his old roving role from the left did he begin to come into that World Cup qualifier – his run and slightly untidy finish for the first, in particular, was old Moses, barging through with his arms spread out as a sea of white parted before him.
That was barely a month into his repurposing, and in that sense it is a shame that he could not make the recent friendly against Senegal. The evidence abounds to suggest that, in this game of alter-egos: deliberate, chalk-on-the-boots wing-back by day, and footloose winger at night, only one persona wins in the end.
The trouble is that Nigeria does not need a right wing-back. By this time, is there be any of the old Moses left though?