Manchester City
The Contenders: Manchester City's UEFA Champions League highlights so far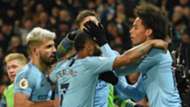 After cruising through their UEFA Champions League group to finish top, Manchester City are one of the contenders to win the gong at the end of the season.
Despite starting with a 1-2 loss at home to Olympique Lyon, Guardiola's men wasted no time in getting their act together. They beat Hoffenheim away and then followed it up with two comprehensive victories over Shakhtar Donetsk, including a 6-0 result.
A draw to Lyon and a victory over Hoffenheim consolidated their position as the top dog in the group.
Sergio Aguero, David Silva, Gabriel Jesus, Bernardo Silva were all in top form throughout the matches and powered their run.
Now, they will be taking on
Schalke
in a Round of 16 clash in February.
Watch all their best plays so far here.