Africa Cup of Nations Qualification
'The boys have done us proud!' – Kenyans react as Harambee Stars thrash Ethiopia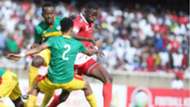 Harambee Stars produced a top class display to smash three goals past Ethiopia and inch closer to the 2019 Afcon finals on Sunday.
Goals from Michael Olunga, Erick Johanna and Victor Wanyama were enough to guide Harambee Stars to an emphatic win that kept alive their hopes of making it to the finals for the first time since 2004.
Eric Johanna, who plays in Sweden, put up man of the match display, scoring a goal, providing an assist and earning a penalty to put Kenya on top of Group F with seven points, the Walya Antelopes are second on four while Ghana's Black Stars have three points.
Here is how Kenyans celebrated another win that saw new coach Sebastien Migne remain unbeaten in the competition.
The boys have done it! A momentous occasion as Harambee Stars thump Ethiopia 3-0 to all but guarantee a place at 2019 Africa Cup of Nations showpiece. Tactical discipline, sterling team effort, fantastic home support and belief carry the day. Let's savour a great win.#AFCON2019Q pic.twitter.com/lSGynUnfKN

— William Samoei Ruto (@WilliamsRuto) October 14, 2018
Congratulations #HarambeeStars for the well deserved victory. Hongera and God Bless #Kenya! #AFCON2019

— Uhuru Kenyatta (@UKenyatta) October 14, 2018
Hongera #Harambestars for the big win in the #AFCON2019Q pic.twitter.com/p1Se4UuPiQ

— Yidah Sven Yidah (@YidahSven) October 14, 2018
When we pull together united as a people and get clear on our goals, we win.
What a game #HarambeeStars. All the best all the way to #AFCON2019 pic.twitter.com/0BdWYh6LK4

— Raila Odinga (@RailaOdinga) October 14, 2018
Congratulations #HarambeeStars for the 3-0 victory against Ethiopia. We should now fully support the national team ahead of the #AFCON2019 tournament. #KenyavsEthiopia #AFCON2019Q pic.twitter.com/LUzHJ9Ww2R

— Mike Sonko (@MikeSonko) October 14, 2018
I honoured my promise of a Sh3m cash reward to #HarambeeStars after their 3-0 win against Ethiopia in the AFCON qualifier match at Kasarani. #AfCON2019Q #KenyaVsEthiopia pic.twitter.com/RPSmDpKNF5

— Mike Sonko (@MikeSonko) October 14, 2018
Harambe stars made us proud today.

well done boys 👏👏👏#AFCON2019Q #KenyaVsEthiopia pic.twitter.com/xaivb2ndR2

— abshir jr. 🇸🇴🇰🇪 (@iamsamady) October 14, 2018
Congratulations #harambestars for making us proud. Congratulations #KenyaVsEthiopia

— Preston Barasa (@preston_barasa) October 14, 2018
Congratulations 🎊 Harambe stars you made us proud, keep the fire 🔥 🔥 🔥 burning 👏👏👏 pic.twitter.com/lessvkggWZ

— Julius Antony (@JuliusAntony4) October 14, 2018
Today was fantastic day uncle willy ako sawa.
Pic Of the Day... The name is 50m harambe stars.😁😁😁😁😁😁
Good night my fellow Kenyans. God bless Kenya. pic.twitter.com/dvfAQJt5F1

— Mohamed Subow (@MohamedSubow6) October 14, 2018
Congratulations to harambe stars. You have made us proud

— 0775446468 (@OmmPJuQsf4CmUt6) October 14, 2018
Big win for Kenya, Congratulations 🎊 Harambe stars@VictorWanyama @OgadaOlunga pic.twitter.com/3tEWFJShdx

— 🇰🇪Muhammet Abii 🇸🇴 (@HillizimAbey) October 14, 2018
God is good and faithfull
Fans were amazing
Thank you all for the support
Thank you Lord for the goal #Harambestars #AFCONQ2019 #KenyavsEthiopia pic.twitter.com/Ky3vaCoQmC

— Ogada Olunga (@OgadaOlunga) October 14, 2018
Kudos to harambe stars for out shining Ethiopia ⚽️⚽️⚽️ pic.twitter.com/HOR2Moc1Oh

— nicknaya (@nicknaya1) October 14, 2018
Congratulations #HarambeeStars. We really enjoyed the ourselves. Fantastic game there 👌 pic.twitter.com/WhOYxvpDqu

— KIPCHUMBA MURKOMEN, E.G.H (@kipmurkomen) October 14, 2018
Well done #HarambeeStars!#AFCON2019Q#KenyaVsEthiopia pic.twitter.com/Zx6jH98BNt

— Hon. Esther M Passaris (@EstherPassaris) October 14, 2018
Thank you for the support Kenya 🇰🇪🇰🇪#HarambeeStarsVsEthiopia #harambeestars #AFCON2019 pic.twitter.com/FFq6eqqjYU

— Ogada Olunga (@OgadaOlunga) October 14, 2018
Awesome stuff..you did it guys.Hongera for the sweet win#KenyavsEthiopia#HarambeeStars#2019AFCONQ pic.twitter.com/2RlCzgtCOM

— Zoo FC (@zoofootballclub) October 14, 2018
Never. Lose. Hope.
Hongera #HarambeeStars 👏👏👏Kudos to our Ethiopian bretheren for a good effort 👏👏👏#Afcon2019Q 🇰🇪🇰🇪🇰🇪#Football #Kenya #BoutDarnTime pic.twitter.com/TlSUAOHaZh

— Julie Gichuru (@JulieGichuru) October 14, 2018
A hearty congratulations to Harambee Stars for a resounding win against Ethiopia today in the AFCON 2019 qualifiers.

Hongera vijana wetu!#HarambeeStars#AFCONQ2019#KenyaVsEthiopia pic.twitter.com/Jc9zKIXyTw

— Anne Waiguru (@AnneWaiguru) October 14, 2018