Mexico
'The best manager I've had in the Mexican national team' - Chicharito leads tributes to departing Osorio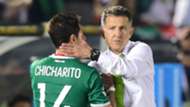 A day after the Mexican federation officially announced Juan Carlos Osoiro would not return as El Tri manager, many of his players paid tribute to the man who has led the team over the past three years.
Osorio was offered a contract extension but is seeking other opportunities, with sources telling Goal this week that at least six different teams have been in touch with the Colombian tactician.
While Osorio was heavily criticized and took several lopsided defeats during his tenure, there also were many good moments. Osorio won over his players, who largely backed him in the face of critiques from the Mexican press and fans, and that didn't change on Saturday, with Mexico's all-time leading scorer Javier "Chicharito" Hernandez leading the tributes by saying Osorio was the best manager he's ever had during his nine years representing his country.
"Thank you for these three years, profe. Thanks for so much. There are mixed feelings. The thankfulness is what sticks out the most because our paths crossed," he wrote on Instagram.
"Thank you for the confidence, faith, security, work, lessons, daring, support, honesty, congruency, opening, growth, communication, the strength to be able to go through so many things that they said and many things more.
"You're one of the best managers I've ever had. The best I've had in the Mexican national team without a doubt. I love you and admire you a lot, 'professor!'
"You're an extraordinary manager, but especially a human being who I'm so honored to have known and shared so many things together! Thanks to your whole coaching staff, who are extraordinary again and also excellent people! I wish you only positive things, because you only deserve that and much more. See you soon, profe. Thanks for everything."
The new generation also was eager to praise Osorio. Hirving Lozano is the hottest name in Mexican soccer after a standout year at PSV and a goal and an assist at the World Cup in Russia. Osorio took heat for playing Lozano in 2016 but saw the 22-year-old become one of the players considered a 'must-start.'
"The truth is that for me, this man knows a lot about football. He gave me the chance to be in the senior team, he gave me a lot of chances to play and I'm thankful to him," Lozano told  MarcaClaro .  "It's unfortunate he's not going to continue, and, well, hopefully it goes as well as possible for him with what comes. I think he's a great manager."
Miguel Layun, a versatile defender who Osorio moved around the pitch often, joined the chorus as well.
Mister, Paez, Sierra, Marin, Ríos, gracias... gracias por vivir con nosotros momentos increíbles, por creer en nosotros, algunas veces, hasta más que nosotros mismos. Me quedo con grandes recuerdos, y cómo esta foto, siempre buscaron la manera de hacernos ir hacia adelante. 👏🏻 pic.twitter.com/uFykUTeR58

— Miguel Layun (@Miguel_layun) July 28, 2018
"Mister, Paez, Sierra, Marin, Rios, thank you," Layun wrote, listing Osorio and his staff. "Thank you for going through incredible moments with us, for believing in us, sometimes more than we believed in ourselves. I'll have great memories and, like in this photo, you always looked for the way to make us go forward."